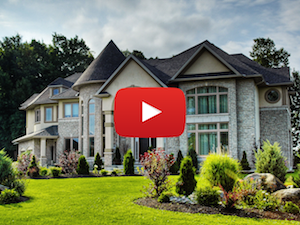 How many minutes a day do you spend watching videos on Facebook, YouTube or your favorite news sites? Probably more than you'd like to admit. Now imagine those same videos with mere photographs illustrating the story in a slideshow or a static gallery. Not as engaging, are they? So, once you've secured a listing, why not create real estate videos to showcase them to prospective buyers and agents?
If you're not convinced, check out these stats:
Web pages with videos are 53 times more likely to appear on the first page of Google search results than one with only text and photos. (Forrester Research)
Viewers spend 100% more time on webpages with videos on them. (Marketing Sherpa)
Adults spend an average of 19 hours watching videos online or on their mobile phones per month. (ComScore)
Clearly, videos area a way to help you beat out the competition's online listings and attract more prospective buyers. Creating a simple yet effective real estate video is easier than you may think. With the right tools, plan and some dedication, you can start showing what your properties have to offer instead of just telling them. Here are a few basic tips to create real estate videos that sell.
Choose the Right Tools
A good camera, a simple lighting kit and easy-to-use video editing software are all you need to create a great video. PC Mag provides a detailed overview of the ten best digital cameras from the past year that includes ratings, reviews and a comparison on 11 different points to help you find one that fits your budget and needs.
Lighting is incredibly important to ensure you provide consistent, beautiful shots for your video. You can purchase an inexpensive yet effective lighting kit to get the job done. For rooms with great natural light as a feature, be sure to shoot without the kit to highlight it specifically.
It's hard to believe, but you can actually find loads of free video editing software to help you dice, splice and polish your videos with minimal effort and lots of style.
Plan Your Real Estate Video
As with everything in life, you can save a lot of time and frustration by planning ahead. For each area of the property, develop a shot list with the most attractive features to buyers. Be sure to cover unique attributes, upgrades and historical details. Don't worry about creating a script to follow verbatim. You will sound much more natural and help the "story" of your property flow if you let your bullet points guide you and share them as if you are speaking to your audience in person.
Schedule Your Shoot
Schedule about 1.5 – 2 hours to shoot the entire property, inside and out. Enlist the help of someone who can skillfully operate your camera as well as provide useful, honest feedback. Wouldn't you hate to have a shadow over you only to find out about it when reviewing your shots?
Shoot Your Real Estate Video
Now, the fun part – the video shoot! Dress comfortably, act naturally and imagine you are speaking to a prospective buyer right in the room. Following your plan, shoot two scenes per feature:
1) your commentary in a sentence or two on each feature as you stand next to it and
2) a b-roll shot without your commentary that slowly pans across, pans up and down or just focuses for a good ten seconds on each feature alone. You can add your voice from your commentary shots over these b-roll scenes to give your video some variety and a more professional look when you put the video together.
Edit Your Real Estate Video
If you don't feel super creative or especially skillful with technology, find someone who can help you put your video together or review some videos online of realtor videos you like. Use text to add titles to each area or room and include the square footage. Try to avoid distracting transition elements and stick to simple movements from one scene to the next. Add music that matches the look and feel of the home. For a small annual fee per year, you can download unlimited music from sites like AudioBlocks.com to add royalty-free tunes to your videos.
It will take time, patience and dedication to create your first video, but it is well worth the additional sales. At the beginning, you can start with simple scenes then add more elements to your video as you get the hang of it. The most important thing is to provide a virtual experience of the home or property that connects more meaningfully with prospective buyers and encourages agents to share your listing with their clients.
Other Real Estate Video Tips
Post your finished video on YouTube so you can easily share the link on your website, social media and e-newsletters.
Create videos of multiple properties as you list them.
Try to keep your video to about 90 seconds to two minutes long.
Make sure you have a few people proof your video before you post it.
Create a video of each neighborhood where most of your listings are and include them on the same page with every listing in that neighborhood.
Don't forget your sellers! Develop videos that sell your services to them and increase the likelihood of their wanting to list with you.
Do you do real estate videos or are you looking to get started? Share your thoughts, comments, and frustrations in the comments below.