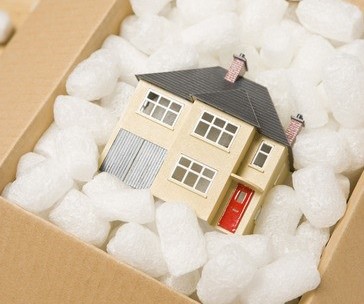 Thanks to Home Value Leads for securing this wonderful seller, your real estate transaction went smoothly. You're now preparing to close escrow!  Your seller asks for a common real estate tip: whether it's worth the cost to hire a professional moving company or if they should employ the "friends and family" moving method.
Although you may have a truck they can borrow, you don't want to get stuck packing up their belongings.  Discuss with your sellers these five factors to take into consideration before making that decision.
Time.  How much time do the sellers have before they need to move out?  If the buyer's walk-through inspection is in a few days, try to be realistic.  An entire house is not going to be packed up and moved out in two days unless they have some serious help.
Logistics.  Where are they moving to?  Is their new house ready, or will they have to put their furniture into storage and move into a temporary home?  These details will guide the process.
Effort.  Are the sellers continuing to work full-time during the moving process?  If so, "survey says" they'll be too exhausted to pack up on nights and weekends.
Stress.  Let's face it, moving is just plain stressful!  Even if people are moving for a good reason (such as buying a larger home), the process of moving takes a toll on even the happiest of families.
Finances.  Hiring a moving company definitely requires more budget.  However, the trade-off is usually worth the expense.  Your sellers can spend their time pointing to where the boxes should be unloaded rather than experiencing the hassles of packing up and moving.
If going the DIY (Do It Yourself) route, U-Haul® stations often partner with mini-storage buildings, making it easy to move and store furniture in one trip.  A strong word of caution for your sellers, however, is to view the mini-storage unit as temporary.  Remind them to remove their possessions as soon as possible.  Otherwise, they may forget about their storage items over time, and their family treasures might end up on an episode of "Storage Wars" with investors bidding for them.
Experience has shown me, time and again, that it's more efficient to hire a professional moving company.  With all options weighed, help your sellers select the best moving vendor.  Your clients rely on you for every real estate tip you can give them, not just for negotiating skills and expert advice, but also for your connections to trustworthy service providers.  Show your sellers that you truly care by screening and forwarding the names of your top three moving company vendors.
This is where your Rolodex of great team partners comes in handy.  Surely you know a vendor in your real estate network who does a great job helping buyers and sellers move.  You may even find a locally owned company that has packers, such as the "Princess Packers" at Meathead Movers.  Check to see if their web site has a packing checklist and other helpful resources.
Let your great service shine even after you're past the negotiating table.  Your sellers will thank you and recommend their friends in the future.