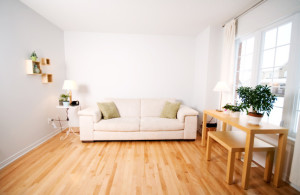 Every real estate agent knows that real estate staging can make or break a sale and the time it takes to make one. In fact, more than 90% of homes sell better when staging takes place, whether enhanced by the homeowner himself or by a hired company.
You could work with what your seller has, hire a real estate staging company or stage the house virtually.
Here, we'll break down when and how to use a real estate staging company and the benefits of investing a little to get a lot more.
When should you use a real estate staging company?
A new home for sale could use one for several reasons:
Vacant home: Obviously, an empty home leaves little in the way of inspiration to potential home buyers.
Downsized or in the middle of moving: The seller may be on their way out, taking their furniture and home accessories with them. Or maybe they have been cleaning house.
Style Upgrade: Some homes just don't have quite the look when it comes to decorating that sells a house.
Second Opinion: Let's face it: some sellers are just too emotionally tied to their home to see any faults. Bringing in a professional real estate stager provides an outside opinion from yours that may finally break down that wall and convince the seller to make some changes.
That pretty much answers the whys, too. What's more, a good staged home will be neutral enough to be warm and inviting while giving room (excuse the pun) in potential buyers' imagination to apply their own personal style to the space.
A little real estate staging here and there can also help enhance the best features of the home (oftentimes, even the home seller will see how a potential area of the house could have been used) and minimize the effect of the worst features.
If the real estate staging company does it right, they should understand the current market, the potential buyers that would likely be looking at the house and apply their design know-how to choosing just the right look for the home.
How do you find and choose a real estate staging company?
You could do a little research online with the terms "staging company [your town]".
The company should be able to provide a gallery of examples and even some stats proving that the homes they have staged have actually sold. (Not that is the ONLY reason a house sells, but it certainly helps if they are on a winning streak.)
You could also ask for references. It's important to know from past clients just how easy it was to work with the company, how accommodating they were and the final result.
You can also inquire the value other real estate agents felt they got out of having hired the company.
Compare prices on your top picks. It's worth the investment to do a study (or have your assistant/intern do it!) because you will likely use the company you choose many times in the future for other homes you sell.
Another great resource is asking real estate friends who are willing to divulge their resources about who they use.
They will give you the skinny on working with their company and can help you avoid a costly mistake in the long run.
Finally, Yelp! is a great resource since they provide ratings. Hardly anyone lies on Yelp! (usually, but it does happen), and businesses are dinged if found soliciting for positive reviews.
By sourcing a real estate staging company to help supplement your next home sale, you can be sure that the look of the house is taken care of.