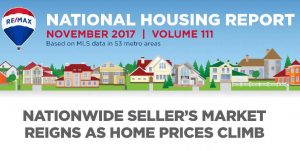 RE/MAX shared their latest National Housing Report this month, revealing some interesting findings in today's real estate market. It's no secret that it is a seller's market! Record low housing inventory and increased home sale prices make it difficult for buyers to have more control in the market.
The report covers 53 U.S. metropolitan areas. It's interesting to see metro areas who were either hit hard during the recession or have come up in the ranks in recent years take the top spots in sales price, low months supply and price increases.
Metro areas that showed the highest increases in home sales:
Albuquerque, NM – 19.8%
Augusta, ME –  14.1%
Las Vegas, NV – 13.2%
Billings, MT – 12.4%
Last October, home sales decreased by 1 percent while this year it increased by 2.5 percent.
The areas with very low months supply:
San Francisco, CA – 1.0 months
Denver, CO – 1.3 months
Seattle, WA – 1.3 months
San Diego, CA – 1.4 months
Incredibly, these metro areas at the current rate of home sales would run out of inventory pretty quickly. Six months is considered a healthy balance, however, even the average months supply across the country is only at 3.3 months.
And finally the top price increases:
Las Vegas, NV – 16.3%
Birmingham, AL – 12.3%
New Orleans, LA – 12.3%
Des Moines, IA – 12.0%
From October 2016 to October 2017, the median sales price increased from $216,500 to $224,000 or 3.3 percent.
And just to demonstrate how much of a seller's market it is, take the average days a house is on the market. From listing to when the contract is signed has decreased by seven days, from 58 to 51.
These findings are encouraging for sellers who are hesitant to put their properties on the market. While the housing market is "steady and at least somewhat predictable," according to RE/MAX Co-CEO Adam Contos.