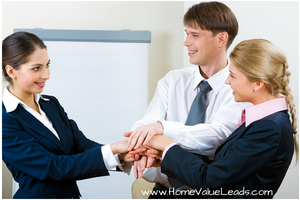 It is often said that sales is a game of numbers. An increased number of customer contacts leads to an increased number of sales, which leads to an increased profit margin. What many new realtors forget is that in a complex sales field like real estate, numbers like dollars and profit margins are not the most important thing. Building real estate relationships AND personal relationships with clients and establishing a network of contacts that will supply you with business long into the future is much more important than the dollar amount that you earn on one specific deal. According to How Stuff Works, it costs five times as much to find a new customer as it does to retain an existing customer.
Real Estate Relationships vs. Profits
No one can argue that sales professionals must be concerned with the bottom line – a real estate agent who does not sell cannot sustain their business or make any money to support themselves. On the other hand, realtors must also make sure that they cultivate relationships because of the potential for future business. According to the National Association of REALTORS, 65% of home sellers would "definitely" use the same agent again, however only 25% actually used the same agent. This is likely because the agent that they used 5-7 years ago never followed up with their client, which means they weren't the ones the client called when they were ready to buy/sell again. How can you avoid being the past real estate agent that never gets that call? Focus on building and maintaining that relationship and make sure to set a budget for client follow up after the sale.
Build Relationships through Email
The occasional email works great to maintain relationships. Market statistics and mortgage rates are great for prospective clients, but may not be the best thing for someone who bought a house a year or two ago. Instead, try a service like Happy Grasshopper which sends fun, whimsical emails periodically and encourages conversations.
Build Relationships through Social Media
Social media can be a GREAT way to maintain both personal and real estate relationships. You can see what's going on in their lives, what is important to them, and maybe even pick up a hint of them talking about a new job or a new baby on the way that may hint to them needing to buy or sell a home. Don't be a salesman. Interact with them like a HUMAN. Like and reply to their status updates. Leave a recommendation on their LinkedIn profile.
Build Relationships through Client Parties
Client appreciation parties are very common in most areas of business, but for some reason has never quite caught on in real estate. Show your clients that you care about more than a paycheck by holding these client appreciation parties periodically throughout the year to build up your real estate relationships. One of the things our team likes to do is "Painting With A Twist" which is a paint studio that combines an art instructor with bottles of wine and is always a hit. If you have a good relationship with a lender, title company, or home warranty company, you can get them to split the costs with you. Just remember, this is a PARTY and not a sales meeting.
Build Relationships through The Basics
Never forget the power of a letter or phone call. Sometimes the basics are the most important and meaningful real estate relationship building techniques. You can pair this with things like Social Media and your parties to take the online offline and build that relationship. If someone in their family passes away send them a personal note of condolences. If their child graduates from high school, make a phone call to congratulate them. Don't forget birthday cards, Christmas cards, and anniversaries. Please forget those lame time change postcards (and emails) though…
Everyone needs to make a living, but realtors who put the needs of the people they work with before their own personal gain will find that they are better able to build a loyal base of real estate relationships that are worth much more in the long run. How do you maintain your real estate relationships?