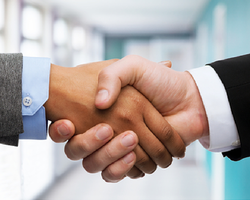 One of the simplest techniques for getting referrals that many people forget about is actually asking for them. Your past clients are often happy to refer you to people in their network who are looking for assistance with their real estate needs, whether they are buying or selling. Make a habit of asking your clients periodically if they know anyone who might need your assistance.
Use Social Media
Building your presence on social networks like Facebook, Twitter, and LinkedIn is critical for making sure that your clients know about your services. Even someone that knows who you are and what you do can forget about your services, but once they see your helpful updates on social networks they will be reminded about how you can help them – and their friends – and hopefully provide you with regular real estate referrals.
Distinguish Yourself From The Crowd
One easy way to set yourself apart from others in the real estate industry is to use handwritten note cards that show people your appreciation for establishing a relationship. Try to remember the people that you meet and what their interests and professional situation are like so that you can plan timely follow-up with them when they might be in need of your services.
Make Yourself Approachable
Give out your email address and phone number to anyone who might need your help. When personally interacting with people, be sure that you smile and have an open demeanor. Consider your body language; you want to present yourself as a person people are free to come to for advice without being judged, as many potential clients might not be as well-versed in the industry as you are.
Give To Get
Another great way to receive real estate referrals is to provide referrals to your friends or other business associates. If you know someone who is looking for a contractor, electrician, roofer, or landscaping, provide them with some names of people you have worked with in the past. If someone is looking to refinance their home, send them over to your favorite lender. Giving referrals to your business associates can result in them referring business back to you when a friend or client of theirs is looking to buy or sell a home.
These are just a few of the best ways to get real estate referrals. Referrals help your business because they allow you to close new deals and boost your income with a minimal amount of marketing work. Every realtor needs to devote a part of their business plan to building up a base of clients that will be happy to refer them to friends, family members, and colleagues that need real estate assistance. Want to learn more about how to go from relationships to referrals? I suggest you read "The Seven Levels Of Communication" by Michael J. Maher. What are some methods that you use to generate real estate referrals in your business?