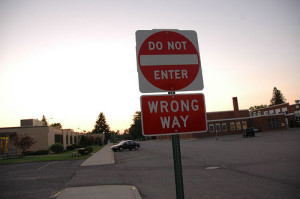 Every business needs leads; this is particularly true in real estate.  Most people do not buy and sell homes very often; repeat customers are not a major source of real estate lead generation.  Your success depends on new customers and this is why you must constantly have your eyes and ears open if you hope to win in real estate.  There is always a right and a wrong way to do something.  Going about real estate lead generation the right way will guide you to long term profitability and job satisfaction, while the wrong way will likely fail, and leave you with nothing but stress and empty promises.
What Makes the Difference?
Consider the right and wrong ways to generate real estate leads with these stories of two realtors, X and Y.
X and Y are starting their workday.  X begins by checking email and getting started on a long list of calls to return.  By lunchtime, X has put in four hours of solid effort, but accomplished very little.  Y starts the day differently, by completing a few crucial tasks.  Once the three most pressing tasks have been completed, Y reads and responds to email, then spends the afternoon working from the shady patio outside a favorite café.  Y is free to respond immediately to phone calls and ends the day early, with the to-do list completed and no calls to return.
X and Y are both attending a charity reception.  X is prowling around the room eavesdropping.  Anytime he hears someone mention real estate, X jumps in and tries to take over the conversation.  Nobody really likes X.  Y has a much better time.  Unlike X, Y is able to truly engage with people, both personally and professionally.  If someone mentions it, Y is ready to talk shop, but in a non-threatening manner.
X and Y both have websites.  X built a website using a free template and stock graphics.  X's high school nephew updates the site occasionally.  When a potential customer visits the site, they are overwhelmed by flashing colors, banner ads, and a blaring soundtrack with no mute button.  On every page, the site begs for people to visit the business MySpace page.  Y, on the other hand, paid a web development firm $3000 for a simple, straightforward website.  Visitors to the site arrive at a simple welcome page with links to search for home listings, estimate and get prequalified for a mortgage, and find out what a particular property is worth.  Visitors are gently encouraged to like Y's business on Facebook and follow the Instagram or Twitter feeds.
Which of these realtors knows how to do real estate lead generation the right way?  Which realtor are you?  Our stories end happily; X just bought Y's book, and is starting to make progress.  How will your story end?  You can follow Y's example as well and start doing real estate lead generation the right way; you can win at real estate.