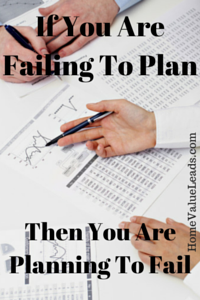 Traditionally, the winter months are a time where real estate slows down a bit and agents take a couple weeks (or a couple of months) off. While everyone needs time to spend with family, friends, and some "me" time, what agents should spend some time focusing on is developing a good real estate business plan. Most real estate agents don't usually review their past work to see what's working and what's not. Guess what? They are leaving money on the table or straight out throwing money away.  There is a saying that goes "If you are failing to plan, then you are planning to fail." It's not too late to complete your 2015 real estate business plan yet.
While building a business plan may sound like a daunting task, it is really quite simple if you break it down into simple, manageable tasks.
Real Estate Business Planning: The Review
You can't really plan for next year until you know what and how you did last year. You have to know your numbers. You might think you know what worked well and what didn't, but can you verify this information? This where a good real estate CRM comes into play and of course a good financial review. If you don't have these 2 things in place, then I can automatically tell you what number 1 and number 2 should be on your 2015 real estate business plan. Answer the following questions:
How many closed transactions did you have in 2014?
What was your gross commission income(GCI)?
What was your net income?
What expenses did you have?
What was that expense, broken down by category: Administrative, Lead generation and marketing, Lead management, and Client management (yes, lead and client management are 2 separate things).
How many leads did you generate in 2014?
Where did each of those leads come from?
How many of leads turned into a transaction?
Where did each of those leads come from?
What is your return on investment (ROI) for each of those lead sources? (Total cost of lead source divided by GCI then multiply that by 100)
Real Estate Business Plan: Goal Setting
Ok, so you know your numbers for last year, which is great. Now what do you want to accomplish this year and what do you need to do based on your numbers? A big part of a real estate business plan is to set goals, but what are good goals? You have to make SMART goals.
S – Specific
M – Measurable
A – Attainable
R – Results-oriented
T – Time Sensitive
You can't just say "I want to be a top listing agent" because it isn't SMART. Sure, you have a goal, but you have no PLAN for that goal. To rephrase this as a SMART goal, you would need to say "I WILL to list 20 homes this year through seller leads generated from Home Value Leads." How is this SMART?
S – Specific (through Home Value Leads)
M – Measurable (20 homes)
A – Attainable (depends?)
R – Results-oriented (listing 20 homes)
T – Time Sensitive (this year)
Attainable is a bit subjective. If you listed 2 homes this year, 20 homes may or not be attainable and perhaps you should say 10 homes unless you have one heck of a plan to get to that point and you know that your numbers can support it. Let's take the above goal and expand on it. Let's say that my budget for seller lead generation last year was $1,000 and with that, I generated 2 listings. Assuming my numbers stay the same for 2015, this means that I would have to have a budget of $10,000 specifically for seller lead generation in order to generate 20 listings. If my current finances said that I could devote that budget, then 20 listings are indeed attainable. If not, then it is not attainable right now and should be revised.
Real Estate Business Plan: The Plan
A real estate business plan is about deciding where you should spend — and not spend — your budget next year. Where is your business succeeding and where is it failing? Where are YOU succeeding and where are you failing? These two concepts can often be closely related. If you aren't the most organized person, perhaps you are not following up effectively with leads which means that your lead conversion rates are horrible. This doesn't mean that your lead sources are failing – it is you that is failing your lead sources and it is an area for improvement. Maybe instead of paying more money to generate more leads, you need to put some funds into hiring an inside sales agent (ISA) to handle follow up for you or a really good real estate CRM product to help you manage and keep track of your leads.
If you do a great job at lead follow up and conversion, but buying leads from Trulia isn't as profitable as buying leads from Zillow, perhaps it is time to cancel your contract with Trulia and focus more of those funds towards Zillow or another source.
If your business plan is to focus more on listing leads instead of working with buyers, Zillow and Trulia may not be the best sources for this and you may want to look at a product like Home Value Leads.
Now you have your larger goals, but how are you going to achieve them? If your goal is to get 20 listings this year, how will those come out? Don't assume that you will get 2 listings a month when you know that 4 months out of the year are super slow in your area. Don't assume that you are going to take 4 listings in July even though you take a 2-week vacation with your kids during summer break. Break down that goal into realistic monthly targets: In January, I will get 1 listing. February I will get 1 listing. March I will get 3 listings, etc. This again comes down to knowing your numbers. If you know that it takes 100 leads to get 1 listing, then what does your budget look like for January? What does it look like in March when you need to get 3 listings? What will you do in June if you have only had 7 listings and you are behind on your target numbers?
Real Estate Business Plan: Follow Through
How many times have you made a to-do list and then forgotten to look at it again? I'll have to admit that occasionally my real estate business plan was that to-do list. You make your plans. You set your goals. Then you forget to look at them again until the end of the year. Most of the time, you failed to meet those goals. Why? Because you weren't reviewing your business plan and you weren't maintaining your goals. A real estate business plan is not something you do at the beginning of the year and then forget about. It is something that you must review regularly. Set an alert on your calendar to review your goals at least once a month and determine where you are at. If you are behind, then you need to make decisions and change your plans on how you will still reach your goals. Having a constant reminder to remember your business plan, review what your goals are, and where you are at obtaining them will keep you focused on your business and keep you successful.
Developing a good real estate business plan can be the difference between being a successful real estate agent and an ex-real estate agent. You may slide by for a few years without a business plan, but you will never grow a truly successful real estate business without implementing real estate business planning into your yearly, monthly, and even daily schedule.