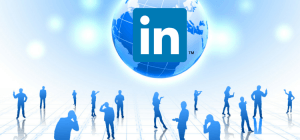 LinkedIn has grown by leaps and bounds since it's inception in 2002. I remember being invited as a young professional at my first job to join. I did then forgot all about it.
Now, in 2017, you can't turn around without seeing LinkedIn advice among the many revolving around social media. While the fanfare does help many professionals make connections and "do business," I wondered how real estate agents were doing with the platform.
Aaron Norris of lender The Norris Group in California certainly had some perspective on the topic. He has taught digital marketing, social media and web 3.0 for Realtors and real estate investors. (He is also the board chair of the Public Relations Society of American Western District, so we figure he knows a thing or two!)
Here is what he had to say in his own words.
The real estate community at large is typically a few years behind the technology curve. The biggest mistake I see Realtors making is they don't give social media a job. Every channel has a different job for our company. There's seems to be a very bad disconnect on what they SHOULD be used for so Realtors don't become added noise.

Too often, Realtors are "like happy." LinkedIn suggests then Realtors like without any effort to write a note, introduce themselves, or even collect the data and create a system to follow up with potential clients and/or connectors that could become amazing lead generators. So much wasted opportunity!

These systems are getting very smart. It's impossible to leverage a useless network. Facebook showed us two years ago that they'll gladly allow us to pay for fans only to realize two years later that our posts, including videos, are reaching a fraction of what they once did from our business pages.. The real estate community must understand the free ride is over and it's all pay for play at this point, regardless of platform. So, we have to treat them as such.

Easy formula:

1. Give LinkedIn a job. Better yet, give it some metrics you'll be monitoring to see if your job assignments are working and produce results. Is it to identify leads, build relationships, gather intel, collect birthday, grab pictures for your CRM, have a secondary way to update emails when people move to new jobs? Strategies here work. Is it to establish yourself as a thought leader in a specific space? If you don't know why you're there, it's not going to work.

2. Be authentic. Yes, you do you. The worst is watching someone layer on who they think they should be and be doing. Not only is it rarely effective, it's uncomfortable to watch. I love going back to the Hedger Hog concept here: do what your passionate about, do what drives your economic engine, and do what you can be the best at in the world. When you able to share that kind of information, you will win.

3. Show up regularly. Create a schedule and stick with it. Social media takes work and the algorithms clearly favor people who are not only active but that are consistent and drive engagement. #2 will help you a great deal in this area but creating a schedule will keep you on track.

4. Build relationships. I have over 150 people waiting to be my friend on LinkedIn. I'm too busy trying to make the system work for me to be bothered with people I've never met and will likely add zero value to my network. Creating meaningless networks is simply silly. So what if you have 5,000 followers?! Bet you 99.9% of these bloated, fake networks are completely worthless to what you're trying to accomplish.