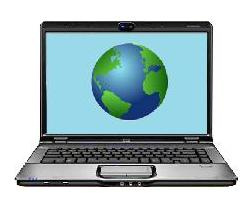 Yes, you have your HomeValueLeads.com seller site, and it's working out great.  But now you'd like to up your game with a customized general purpose real estate website, too.  How much should you spend, or should you create a free blog site?  That all depends on what you hope to accomplish with your  website.  A great real estate website can accomplish the following goals.
Name Recognition.  It's important for prospects to find you online by name.  If you only have a page on your broker's site, your name may not come up to the top of the search engines.  Designing your own site with many pages allows your name to rise to the top of the SEO lists.
Expertise and Specialties.  Your skill will shine with each new blog you post on your site.  Website visitors can clearly see that you know your stuff!  Your blog can convince renters why they should buy their first home, nudge homeowners to sell and move up to something bigger, or appeal to investors.  It's the perfect place to showcase your niche knowledge such as VA loans for military personnel, rugged and rural properties, or upscale luxury estates.
Branding.  Who are you?  Spotlight what makes you unique, different, and better than the rest.  This is your opportunity to show off personal and professional photos, as well as lifestyle photos with your hobbies.  Your brand is what YOU bring to your clients and customers.
Credibility.  A stand-alone site lets them know you are here to stay.  Visitors know you're not a fly-by-night company that's here today and gone tomorrow.  They see you are rooted in the local community and anchored here for the long term.
Reputation.  Leads want to check you out before they meet with you — so give them positive content for their research!  Past clients feel comfortable referring you to their friends quickly by copying and pasting your real estate website.  Be sure to post the recommendations of previous clients who sing your praises.  And of course a few key photos of happy buyers in front of their houses works wonders too.
Listings.  A solid site is both a repository and marketing site for your listings and you can drive buyers right to your site, instead of anonymous third part site — that will make your sellers happy!  Listings organically attract buyers who "stick" to your site.  Provide useful education and interesting data that keeps buyers, sellers, and homeowners coming back over and over.
Presence.  Compete with the "big guys" and let a little site magnify your brand like a large corporation.  Connect with your ideal prospect who views you as equal to the big box companies.  A well-designed and effective real estate website can make you look larger than life.
Mobile.  Lastly, mobile sites optimized for smart phones and tables are a must.  More prospects are search there first!  The search engines may ignore your site without mobile content.
By searching around the various real estate related resources, you will find several low-cost solutions for your own agent website.  Or you can just ask our friend Brian Rayl which company he recommends!