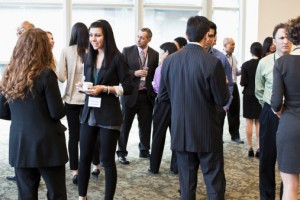 In the spirit of our last post about cross-promotion, let's talk long-term networking. As a real estate agent, you have the natural gift of connecting with people. By channeling some of that energy into establishing relationships with the world outside of clients and real estate, you might find a steady stream of leads that can buoy your business all year long.
Traditional Networking Groups
Every week or month, hundreds of thousands of traditional networking groups meet to help increase each other's businesses. These include vertical-exclusive groups (i.e. real estate professionals only), mixed groups that only allow a representative from a specific industry to join and informal networking groups that provide social mixers, seminars and resources to educate and grow local businesses.
Local Chamber of Commerce
Perhaps the mother of all networking groups in any city, town or county is the local chamber of commerce. These groups serve to promote and provide a platform for local businesses to thrive in their communities. They usually have different tiers of membership, so you may want to do some research and ask a lot of questions to determine which one would be a good fit for your real estate business.
One of the best things about Chambers of Commerce is the visibility you receive from your membership. Monthly lunch-n-learns, opportunities to speak, women-focused sub-groups, community events and the credibility from being a part of the group are just a few of the benefits.
While chambers don't usually require attendance or activity from a member, you'll do well to be as active as you can. You might have to feel your way through the first year of your membership to understand what types of activities would be a good fit or to determine how to maximize your exposure within and outside of the group.
Extra Tip: Make sure that you completely fill out your profile and that any inquiries that come through the directory are properly connected to your email.
Networking Groups
Groups like BNI and other national networking groups with local chapters provide a more intimate setting. They often times also allow only one business to represent an industry. You may have to shop around to figure out which group works best for you and which one(s) fits your schedule.
In these groups, it's important to make sure your voice is heard – wallflowers don't do well! You'll have some social time before or after, so it's always good to take advantage of these by coming early or staying after to talk with your fellow members. Always have your business card handy.
Extra Tip: It's easy to forget people's names and what you discussed. Be sure to take note of any follow ups and send those emails or make those calls you promised right away. You might also take note of special things from conversations you had for the next time you meet.
Meetup.com
Meetup.com is chock-full of groups that get together on a regular basis for a common purpose. Some have a goal of professional development, others are purely social and most are both.
All you need to do is sign up for a free account and start looking for Meetup groups that you would like to join. Most don't cost anything. Real estate meetups are popular and have different purposes, so these are great to join if you want to learn from your fellow agents or develop a stream of referrals.
You can join as many as you like, but, once you find one or two that you like, make a good effort to make the meetups and connect with people.
Extra Tip: If you don't find a Meetup group that you like or one that suits your needs, you can start one starting at just $19.99 for unlimited members. You also don't have to go at it alone. You can start one with people of different industries (for example, a women's group or a neigborhood-centric one) or a real estate agent-focused group. You can then invite everyone you know whom you think would be a good fit (including clients!) to join by sending them the dedicated Meetup group's link.
Non-Traditional Networking Groups
While networking traditionally does involve formal groups of business professionals from like or different sectors coming together, networking can go beyond this setting. If you look at all of the opportunities around you, you'll be able to extend your reach and presence in the community organically and more deeply.
Volunteer Opportunities
If you have a cause that you stand behind and donate to regularly, why not give some of your time? Not only is it a great opportunity to meet other people and potential leads, but, first and foremost, you'll be doing something good for the community!
One thing to keep in mind with volunteering: Keep the sales pitches down. People will be able to see right through a ploy to volunteer for business opportunities. Let it happen naturally. Once people get to know you, they'll trust you more and eventually, your services and related referrals will come up.
Join a Board
It does take time to be a part of a board, but if you love to lead and have an organization that you would like to contribute to, then this is a great way to go. You'll meet a lot of people in the process and be highly visible in your local community.
Again, the time commitment is extensive for some boards, so make a thorough analysis of what you can do realistically. You'll have meetings, events and lots of communications to weather. At the very least, join a committee for a local organization and work your way up if you would like to do more.
Your Kids' School
Parents immediately bond with other parents, so joining your child's PTA or volunteering to be a part of a committee for a school event is a great way to connect with others. It will show your involvement locally, build trust naturally and create a network of people that can turn into great leads or referrals. Sponsoring school events is another great way to gain visibility.
What other groups have you been involved in that have brought great returns for your real estate business?