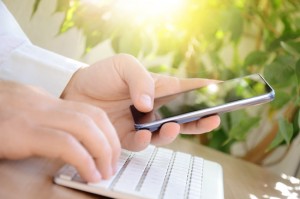 It's official – spring and the real estate market are in full bloom! No matter which  real estate lead generation tool you have set up to get a steady flow of prospects to your doorstep, you will no doubt encounter a number of partial leads.
Many of our Home Value Leads clients continue to look for fresh, good ways to follow up with these partial leads. It's a whole different ballgame versus complete leads because the person on the other end of the phone or email is likely to wonder (or act like they wonder) why you are calling.
Here are some key conversation starters and responses that we hope help you make following up with partial leads a little easier and a little smoother.
Starting Off the Conversation
You get a partial lead and, at this point, not sure whether the prospective seller is actually interested in selling their home. You got their information to begin with through a legitimate source so feel confident that you have a natural in.
One HVL member mentioned that the first thing he says when he makes a call is, "I received your request for a home valuation. I am working on it and just had a quick question. Have any improvements been done that would add to the value of the property?" 
This is a great way to start a conversation with a partial lead because it quickly provides 1) why you are calling, 2) that you aren't just soliciting them, 3) that you are already working for them and 4) it transitions the initial inquiry into an actual conversation for you to get more insight and make the prospective seller feel more comfortable.
Response to the "Blank Stare" Objection
How many times have you called a partial lead only to find they have no idea why you are contacting them or where you got their information from? Some simply forget that they requested information or someone else in their household may have.
Here are a couple great responses you can use in these cases:
Oh, I'm sorry. It must've been your husband/wife who registered/emailed. Were you all thinking of selling?
You visited my site the other day to request a free, instant home value report. Unfortunately, you didn't leave an email address for me to send it to. Your report is attached.  

Please keep in mind that this is an automated report and may not be entirely accurate. If you'd like a more accurate evaluation, please call me at XXX-XXX-XXXX. 

If you'd like a copy of this report to be updated and emailed to you every month, please go back to my site at 

www.mysite.com

 and sign up again with your email address.
Listen More, Speak Less
Another piece of advice from one of our HVL members: listen more, speak less. It's invaluable to your information-gathering and for the partial lead for them to disclose and openly share as much information with you as possible. 
Merely hearing what they are saying, however, is not enough. You truly have to listen. Write down what the prospect is saying, follow along genuinely and wait to speak before mentioning anything. Qualifying responses is another great way to show them you are listening.
Final Tip: It's a good idea to have answers to objections, stats or examples in your back pocket before you call your partial leads. These will give you meaningful responses and facilitate the conversation better.
Have these mini scripts and tips helped you in the past? What other ideas do you have for following up with partial real estate leads?