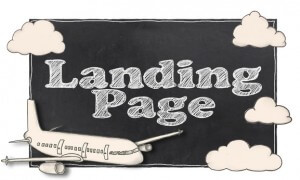 We have discussed before how landing pages for your real estate website can help effectively convert people who click to your site from PPC ads.
The importance of a landing page for any lead generation strategy cannot be overstated. Every page on your website, from your About Us page to your blog posts, should be considered an opportunity to capture leads.
Let's break down what an effective landing page includes and how to make every page on your real estate website lead generating machines.
The Goal of Real Estate Landing Pages
Every business hopes to convert their leads to clients by taking some measurable action. For real estate agents, you might consider your conversion goals to be one or more of the following:
Potential seller calls or emails you to set a listing appointment
Potential buyer calls or emails you to set up a viewings
Homeowner submits their name, email and/or phone number to receive your newsletter
Homeowner submits their name, email and/or phone number to receive a white paper, guide or market stats
Capturing information to receive a home value report (like with Home Value Leads!)
Any of these are perfect opportunities to capture information and to start your relationships with potential clients. They are different steps in the client process and have an important role to play.
The ultimate goal, no matter the step, of course, is to land any visitor to your site as a client.
The Elements of Good Landing Pages
Depending on the specific call to action and goal of your landing page, you will have different elements to include on it. However, every landing page on your real estate website should have:
A Headline – What is your landing page all about? If you are encouraging your web visitor to list with you, then a title like "20 Reasons to List Your Property Now" is a good one. For home buyers, you might have a title like "Find the Home You Didn't Think You'd Ever Find." A newsletter sign-up page might be "Get Monthly Updates and Free Tips on [Your Market] Real Estate." Finally, if you are offering a white paper or guide, "Receive My Top 10 Tips for Staging Your Home for a Successful Sale."
A Sub-Headline – If you'd like to go the extra mile, you can add a sub-headline that describes your headline a little more.
The Offer – What are you providing exactly on your landing page? You don't have to re-write your next newsletter or go into great detail about the guide you are giving. This is the spot where you are convincing a potential lead that taking the action you want them to take will benefit them as a home seller or home buyer. This is a great spot to tell a quick anecdote about a client who needed your help or to bullet list some stats to support your offer.
An Image – If you have an infographic for your guide, for example, show a snippet of it on your landing page. For listing appointments, you can show a map of homes you've sold in the past year or quarter. If you include a client testimonial, then a photo of your client (with their permission, of course) can help humanize your offer. Make sure your photo or image is clear and well formatted. A good image can help give your landing page more credibility.
Your Form – Make it super easy for someone to contact you or to submit their information. For newsletters and guides, name and email work great. For a home value report, additionally requiring a phone number works.
The Call to Action
Finally, a call to action should be on every page of your website. This makes every page a landing page, instantly. Your call to action should change depending on the page. Here are some tried and true calls to action you can use. Can you figure out where these would work best on your website?
Download this free guide
Learn how to close your home the right way
Subscribe to my free monthly newsletter chock full of real estate tips
Get your free market report now
Find out what your home is worth
Search homes for sale in [your market/neighborhood]
Keep It Simple
Your landing page may be the first encounter many web visitors have with anything real estate, so keep it simple. Try to avoid real estate-speak and look for ways to turn common agent terms like CMA or MLS into lay-people terms. Once you see your website as a collection of landing pages, you will find more opportunities to generate leads with what you already have created and hopefully convert them into more real estate clients.