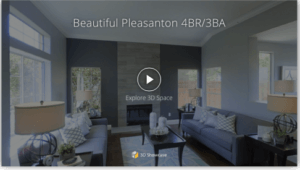 In our last post, we explored some details about Matterport's virtual 3D technology as well as benefits. According to their site, they have "built the first end-to-end media platform that allows users to easily create, modify, navigate, and build on digital representations of real places." Want to try your hand at creating your first virtual 3D tour? Matterport has a series of videos to help you get started. We break it down for you here so you can decide for yourself!
What You Need
For end-to-end creation of any space in three dimensions, Matterport can provide the following:
Matterport Pro 3D Camera ($4,500) with a built-in WiFi network that connects to your iPad plus a built-in motor that lets it rotate 360 degrees
Matterport Cloud for processing, hosting, and streaming your Spaces (starting at $49/month)
Matterport Capture App for iPad (free)
Matterport 3D Showcase web-based player for viewing Spaces (free)
Not included with the Matterport system but recommended:
An Apple iPad Air 2 or higher with at least 128 GB is strongly recommended for the best experience. See all supported iPads. The most recent version of iOS is recommended.
Capture App (available in the iTunes App Store)
Tripod suitable for holding 6.5 lbs or 10 kg (Matterport recommends the following tripods)
Quick release clamp (Matterport recommends the following clamps) The camera comes with a built in quick release plate.
A camera carrying bag for transportation and protection.
Before You Start Scanning
It's important to know a few things before you start using your Matterport Pro 3D Camera. First, you can perform up to 200 scans with your camera which can cover a 10,000 square foot space. So, for a 2,000-square-foot house, it can take between one to one-and-a-half hours.
Second, don't be intimidated by the scanning process. The Matterport app will help you plan out your scanning reference points. Matterport recommends placing the camera between five and ten feet from the last reference point. You'll basically want to create a sort of grid of reference points so for the smoothest walk-through experience of the final 3D model.
Third, you can scan outdoors using the Matterport Pro 3D Camera's 360° Views feature. Instead of creating a 3D model, it will create 2D panoramic views of the exterior – the type that you normally capture with, say, your smartphone. The reason 3D modeling is not ideal outdoors is because of the sunlight. Outdoor spaces like shaded patios, however, that don't have direct sunlight can work great with the regular 3D modeling feature.
Finally, 5o scans will take up about 450 MB of storage on your iPad, but once you upload the data, you can erase it from your iPad and start again.
Helpful Videos to Whet Your 3D Appetite!
Check out these videos from Matterport for details on prepping your space and scanning a site.
Prepping
Scanning a Site
Are you ready to take your real estate marketing to the next level (or dimension)? Let us know if you've used Matterport or a similar technology on our Facebook page – we'd love to hear how it works for you!