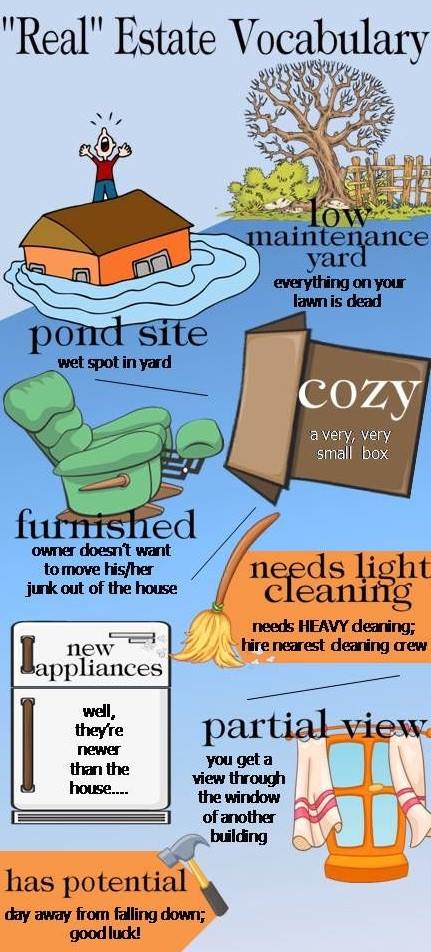 Thanks to a slow Sunday, there was some fun to be had in the Raise The Bar group on Facebook. Kent Wolfe posted a great post on some silly things we shouldn't see on listings. These are MLS descriptions that we see all day, every day and are often a reflection of the exact opposite of the truth. So here is that list plus a few others mentioned in the comments of that thread on MLS descriptions to quit using now (and why they are ridiculous).
"Seller looking for offers." (Well of course they are, that's why it's for sale. Duh.)
"Seller is motivated." (We want you to think they are motivated, but they still want full price.)
"Best deal in the neighborhood." (No it's not, otherwise it would've already been sold.)
"Price reduced." (Why was it overpriced to begin with?)
"Too many upgrades to list." (Really? Or are you just lazy?)
"Best view in town." (Because you can't see the garbage dump from there?)
"Bring an offer." (Instead of bringing some chickens as a trade?)
"Seller being transferred." (Okay, so now we know they're desperate, thank you.)
"Like new." (Is it really like new or are they trying to trick people into thinking everything is brand new?)
"Hurry, won't last." (Then why has it been on the market for 182 days? You might consider changing that to "Take your time, it'll be around awhile.")
"Priced to sell." (Thank you Captain Obvious. It's supposed to be priced to sell. Tell #10 please)
"Highly sought after area." (If it really is highly sought after, we'll know it by the address.)
"Rarely available." (Most places are rarely available, unless they're haunted.)
"All you have to do is move in." (Great. I'll tell my buyers to cancel the loan application and get the truck loaded.)
"Charming" or "Quaint" (Needs serious updating)
"Comfortable" or "Cozy" (Tiny)
"Honey, stop the car!" (Because you are swerving from laughing so hard)
"Must see to appreciate" (Because the listing agent can't afford a professional photographer)
"Needs TLC", "Handyman Special", or "Lots of Potential!" (Better bring a contractor to the showing with you)
"Vintage" (Welcome to the 1920's)
"OMG!" (That's exactly what the buyers will say, but not in the way you hoped.)
"Sold As-is" (Meaning the house is a wreck and the seller is too cheap, too broke, or too lazy to make repairs. And forget about it qualifying for financing…)
"Pre-approved short sale" (LOL. Yeah. Right.)
What are some other "creative" listing descriptions that you have seen and share what they really looked like when you saw them in person. Please share in the comment section below!