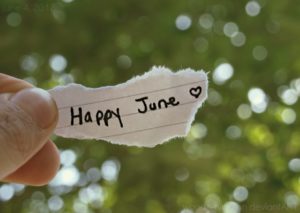 June officially heralds in the hot weather and kicks off vacation season. School is out, spirits are high and that makes for a busy real estate season.
As a real estate agent, it's a really fun time to celebrate some interesting national holidays that you and your clients may not have heard of.
While you might not want to exactly encourage people to leave work early so they get in trouble, you can make a case for people's taking that time to beat the weekend rush at open houses this weekend by scheduling their own private showings.
In newsletters and social media, provide a list of your top listings or just offer the afternoon to the first clients who sign up.
This might not be a holiday for everyone, but for prospective clients who love to run, this is an opportunity for you to share some great info. Namely, you can include a hot list of all of the great running trails in and around your area. If you want to get super creative you can include a map.
Why not also provide some tips to go along with your running trail info and make it a blog post? Everyone will appreciate the extra effort you took and might even share your post with others for additional exposure.
Nothing says summer like baseball and Little League. National Little League Week was proclaimed by President Dwight D. Eisenhower and has been celebrated ever since.
We've talked about sponsorship for community organizations such as the local little league. This is a great week to announce that sponsorship! Take photos with the team, post the on social media and include an article on your blog.
If you aren't sponsoring a team or local community league, then show your support by highlighting the local game schedule or spotlighting the local team and information on how to join.
The same day every year, the official first day of summer is a "holiday" that can be open to so much interpretative celebration. You can start with a few lists of tips:
10 Perfect Summer Flowers to Plant
How to Maintain Your Summer Garden
Summer Guide to Pool Safety
Summer Maintenance To-Do List
This is a wonderful opportunity to have a guest blogger who is an expert in any of these areas write the piece for you.
Is this really a national holiday? You bet! It's a relatively new holiday that was approved by the Registrar at National Day Calendar in 2016. Either way, the day gives real estate agents like you an opportunity to share tips about HVAC maintenance (guest post, anyone?) or to highlight your favorite HVAC tech or company.
Homeowners who are ready to list should know how to keep their HVAC systems running well. Give them a checklist to make sure they have all their ducks in a row – one less thing to worry about during inspection!