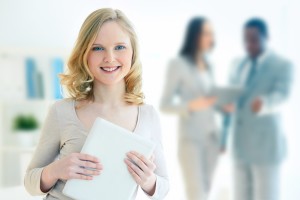 Think that hiring a real estate assistant is too expensive? If you think about it, maybe you can't afford not to have one?
Break down your day and think about the tasks you perform. Which ones actually generate money for your business and which ones are more like time zappers? By eliminating these time zappers in your daily routine and having an assistant do them,  the more time you will have to do the tasks that are the most essential to your business and that will generate the most income.
Change Your Mindset
If you don't have an assistant, then… YOU are the assistant! That means you are doing the jobs of two people. Cuts a little to the core doesn't it? Once you've broken down your day into the two types of tasks you do, then figure out the relative amount that you make just as a real estate agent. Eye opening, isn't it?
Consider It an Investment
You have to believe that, at some point, you can afford an assistant. A full-time or even part-time assistant too much right now? What about a virtual assistant? You can find a number of websites that will connect you with such virtual assistants who can help you perform tasks you'd rather not do, such as perform research, write, create graphics, write blogposts and more, remotely. Check out zirtual.com, elance.com or fiverr.com. It's not only affordable and flexible, but the writers are also thoroughly vetted in advance for you.
Don't be afraid to spend a bit. For some virtual assistants, you will usually be paying well below minimum wage. For US based help, you can be paying at or slightly above minimum wage, but you can also pay on a per-project basis. Start with simple tasks and, as you get used to delegating and paying for someone to help you out, you'll work your way up to larger projects.
Leveraging Money vs. Time
We discussed in a previous blogpost that every person real estate agent has either more time or more money at any given moment. So it's important to access which you have more of then leverage it accordingly. An assistant is an investment of your money that will help free up your time so you can make more money.
Here are a few things you can have your assistant do:
Implement and manage your CRM, calendar and other technology systems
Creating marketing material
Blogging
Market research
Five-minute follow-up with prospective clients via phone
Schedule appointments for you
Take notes for your ideas from meetings and then have them help you take those ideas and tasks to the next level (i.e. make them happen)
(Eventually) help convert leads to clients
What do we recommend you continue to keep on your to-do list?
Showings
Listing Appointments
Open houses
Converting leads when not informed or brand new
In order to get the most out of your assistant, no matter how much you have them do, it's important to train them. Don't leave them in the dark. And make sure you check in with them often, especially in the beginning. They may be too shy to ask questions at first, so monitoring their progress and prodding them often will help you prevent wasting your time. Let them know that it's ok to ask questions if they have any. It's also important that you teach them about the rules around what an unlicensed person can and can't do and questions they can and can't answer, so that you don't get in trouble.
At the end of the day, the end goal is for you to spend more time working on your business rather than in your business.