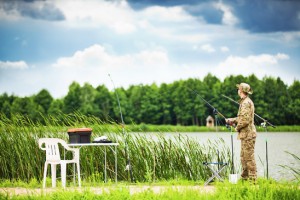 We would like to continue the conversation on open houses by focusing on the upcoming summer season. This can be a busy time for many real estate agents as people hurriedly try to close on a house before the busy fall arrives.
A summer open house can have attract a number of potential buyers if you make them a little more interesting. Finding ways for the summer to hold a unique open house is as easy as playing up to the houses' best features.
Got Water?
Stephen of Beacon Real Estate in Nantucket, Massachusetts, has witnessed a very cool way to enhance an open house if it's by water. With a waterfront property, you can offer private boat rides. Even if a route is available by driving, a private boat ride gives potential buyers the opportunity to see all that the area around the home has to offer. And a ride across a serene lake or bay is certainly enough to drum up some excitement.
Glenn Phillips of Lake Homes Realty in Pelham, Alabama, knows this kind of special house all too well. As he and his team focuses on (surprise) lakefront properties in the area, he likes to surprise open house guests with fishing.
He usually makes sure someone is fishing to get the conversation going. A supply of fishing poles, bait and comfortable outdoor chairs invites attendees to try their hand and experience the lake for themselves. The surprise ends up being a memorable event that turns "just looking" into "gotta have it."
Summer Fun for the Whole Family
Glenn also had a great idea if you expect families to stop by. You can rent a bounce house to place in the backyard, helping parents visualize backyard or front yard birthday parties. Hire a babysitter who can watch the kids while you show the parents around the house. Other similar kid-oriented activities (perhaps set up one of the rooms as a play room?) will work great, too.
Play Up the Best Feature
You've heard it before, but it bears repeating: a barbecue is a great way to hold an open house. Morgan Franklin at United Real Estate Lexington in Kentucky did this. She held a barbecue on a Saturday from 1 to 4 p.m. She even coordinated with other listings, totaling five that day. That summer day, she saw amazing traffic to the house. Finally, she gave away a grill as a door prize, requiring everyone to provide their name, address, phone and email in order to qualify. She had a big winner that day, but that day, Morgan was the biggest winner of all. She not only showed the home to great potential buyers, she collected a long list of leads for the future.
A pool party is another option. Perhaps, to ensure that you have the most qualified buyers, invite only your leads and the neighbors to attend. Top Arizona-based Re/Max Cathy Carter got this idea when she listed a house with a pool to die for. It was perfect for a hot, 110-degree Arizone summer day. The day was relaxing, and guests were able to experience the best feature of the house first-hand.
Michael Kelczweski recently listed a property being marketed as a vineyard. The obvious choice for the Brandwine Fine Properties Sotheby's International Realty agent and his team is to hold a wine tasting.
The key to a great open house that brings people through the door and signing on the dotted line this summer is to think of summer-focused activities and to also extol through a themed party the best features of the property. With a little ingenuity, you can think of a great way to host your next open house and make those listings stand out.