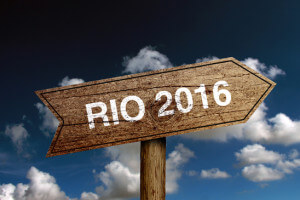 The Summer Olympics are almost upon us (Friday, August 5th, to be exact, and running through August 21st). If you are hard-pressed to find content for your blog or newsletter in the coming weeks, consider this topic as game for your real estate marketing plan. Borrowing from the excitement of the Games is a great way to pump up your followers and clients in a refreshing way.
The Olympics Official Marketing Rules
Before we get into some ideas for your content campaigns, we wondered about the rules regarding any mention of the Olympics. Just as we had shared with you the general parameters around the use of anything related to The Big Game, we want to share some here.
Here is a short list of those rules. If you'd like to see a more complete list (as you should!), hop on over to Campaign Monitor's excellent guide or check out the U.S. Olympic Committee's official copyright rules.
The Olympics prohibits the use of the following, among others, if you are marketing your services or any products alongside them:
The Official Rio 2016 Olympic branding including logos, symbols, expressions, and more
The Official Rio 2016 Paralympic branding including logos, symbols, expressions, and more
The Olympic rings
The Olympic motto
The Olympic creed
The Olympic flame
Historical images (logos of previous games, mascots, pictograms, etc.)
Using the Olympics in Your Marketing
With so may limitations on using the Games in your marketing materials, should you even make mention of them at all? We have a few ways that you can incorporate the spirit of the Games without infringing on copyright rules.
Games updates on social media. If you are watching it with family and friends or make comment on it later, you are welcome to do so if it is completely informative and not promotional for your business in nature.
Did you participate in a sport that is included in the Summer Olympics, have an experience at the Olympics or meet one of the athletes? Share your story!
Post a recipe that is perfect for enjoying a summer evening in the backyard from Brazil.
Write a message like "have a great weekend" in Portuguese and translate it.
Use appropriate hashtags with your posts.
Align your article in some way with Bronze, Silver and Gold medals.
Get creative and shoot videos of you doing Olympic-like feats listing and selling homes.