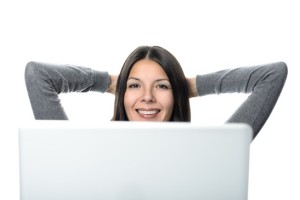 A recent Home Value Leads user sent us this question through our secret Facebook group: Anyone else using a virtual assistant for lead follow up, any tips or warnings for the hiring process? I just signed up for MyOutDesk this morning and now I freaking out that I don't have a complete plan in place. I like everything ready and wrapped in a bow before I jump in.
As a follow-up to a recent blog post we did on why you should use a VA, here is HOW to use them to save you time, money and your sanity.
One of the biggest problems with hiring anybody, virtual assistant or otherwise, has more to do with how well you document your systems than the actual virtual assistants themselves. This means having a repeatable system in place that someone could easily follow and that you can easily communicate. It's a common training issue that may businesses face.
Create an Easy-to-Follow How-To Guide
To do this, take a step back and write down every step and as many descriptive words as you can for the particular job that you would like your virtual assistant to handle. Don't forget all those in-between aspects like resources needed to get certain information or the purpose of the step. Why someone is doing a step can help them get a better idea of how they should do what you are telling them to do.
HVL's Brian Rayl gives a great analogy for this: "Remember that assignment they gave you in 3rd grade or so on writing instructions on how to make a peanut butter and jelly sandwich? Go get bread – what type of bread? Where is it kept? How many slices? Go get a knife – what type of knife? Does it need to be sharpened? Which drawer is the knife kept in? What are you going to use it for? To cut the bread or spread the peanutbutter? Do you need a separate knife for the jelly?"
Get A Second Pair of (Novice) Eyes
After looking at it, does it make sense, is there something missing or a step that you know you can do better? Just like taking a new car for a preview spin or getting , ask a friend or family member who has no insight into real estate or has a slight familiarity with business processes to read through your document. Encourage them to ask you if they don't see a transition between steps or don't understand why a particular step is mentioned. Then go back and revise your document until its correct.
Take It One Process at a Time
Start with just one process or task so that you can put some good time into documenting it as thoroughly and properly as possible. You may have a number of other pressing tasks that you'd like to hand over to virtual assistants, but patience is key. Starting with and refining one documented process at a time will give you good practice creating the guide and will free up more time when you are ready to focus on another project.
One Additional Piece of Advice
You should expect that working with a virtual assistant hiring system such as MyOutDesk and Fiverr.com will take some time . The investment you spend in vetting virtual assistants until you find the right one will definitely be well spent.
By laying out everything in detail and answering potential questions a virtual assistant might have at the start, you will save yourself a lot of headache and miscommunication which translates many times into lost hours and lost revenue. Most of all, keep the lines of communication wide and open with your virtual assistant. Schedule check points with them throughout the learning period and make sure they understand what you are trying to accomplish. What you'll find during this process is that they, too, will be teaching you how to become a better manager and trainer.