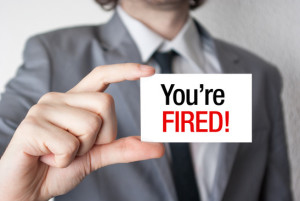 Recently, a couple in Dallas is in the midst of selling their home in Houston fired their real estate agent. What happened? Lack of communication and action on the agent's part. With so much going on in your real estate business, it can be a daunting task to manage multiple listings. But paying attention to your sellers and opening a clear line of communication is important if you want to avoid being fired by your client.
Communication is not only important when it comes to marketing a property but also when it comes to the contract. Going over and making sure they understand each piece of the contract will go a long way toward mitigating future issues.  Collect as much information as possible from the seller. Did the seller show the house before they signed a contract with you? Who was it? In this scenario, have it in writing that the seller showed the house or had a specific buyer looking at it. It might seem untrusting, but you certainly don't want to miss out on a commission that is rightfully yours. Similarly, when you discuss something about, say, price or another aspect of the home that is specific and may not be directly mentioned in the contract, write an email to the seller and have them confirm the information to avoid a back-and-forth, but-you-said-this conversation. Establish this protocol from the get-go so that you both know that this is how small but significant details will be handled.
From the very beginning, you should have a plan of action that you and your seller agree on and that you can see through to the end. Use your plan as a checklist of to-do's to ensure that no stone is left unturned. As each step is taken care of, it's a good idea to follow up with the seller and let them know that it's been done. Ease of mind is a huge benefit and will maintain his or her trust in you throughout the process.
Following a clear plan and having a clear understanding of the client-broker contract may still result in a home selling fail, and the seller should know that from the beginning. Having a contingency plan that you are both comfortable with should this happen will give help the seller feel more confident and less likely to "break up" with you in this situation. A major issue that the Dallas couple faced, for example, is the number of showings that the seller didn't do – almost none. Come to a reasonable agreement, especially based on your experience, of how often you will show the property. Have a follow-up plan if, after 30 days, the house doesn't sell, like dropping the price and agreeing on what that price would be.
Be straightforward, too, in what the seller's part is in ensuring a sale. Does the house need to be fixed up or staged better? Does the seller need to be more flexible with open houses? Again, being aware and knowledgeable about these aspects of the house and pre-planning will help lay the groundwork for what needs to be done and what expectations need to be met on both sides of the relationship.
Pricing the home for sale can be a touchy subject but one that you should absolutely address right away. Don't settle for working with someone who is being unreasonable about the price of their home. Be prepared for just such a conversation with data, like recent home sales in the area, days on the market and expireds. If you paint a picture with numbers, it will be hard for a seller to argue with you on what they think their home should sell for.
Your relationship with the seller doesn't have to be difficult. It's all about managing expectations, sticking to them and instilling trust. Being prepared for all possible scenarios and keeping consistent, direct communication often with the seller will keep your client happy and help you maintain a good reputation.