At Home Value Leads, we pride ourselves on providing amazing support to our customers. After all, we serve a population of professionals who know what client service and dependability are all about!
Our goal is to help busy real estate agents make the most of our online lead generation system so, as with any customer-focused business, communication is everything to us. We've known this ever since we opened our virtual doors in 2013. Our customers can reach us through email or through online support that is available virtually 24 hours a day.
Here is a screen shot of our 2017 "happiness report", year-to-date, which is an improvement over 2016 (92 percent) and 2015 (85 percent). We gather this data by asking a simple question at the bottom of every reply we send: "How was this support experience?"
And we don't stop there. We always encourage our agents to follow up with their clients and practice what we preach. Our users receive targeted emails based on the amount of leads they have at any given time so they maximize the available resources that make sense for them.
Here is an email we send when our system detects the first lead from a Facebook ad, which always includes an offer to review the Facebook ad at no additional cost.


If new users have fewer leads than average, then we send this email.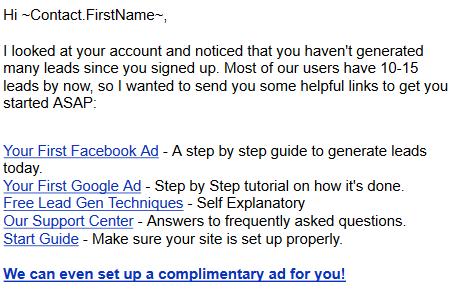 IF the user still has a low number of leads after sending the above email, then we follow up with this email a couple of days later.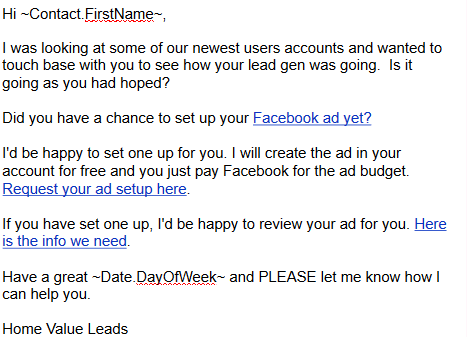 We send a number of other emails as well. With each email we send, we also send an offer.  This costs our users nothing because if they don't get anything out of the system, then we don't have a business!
The majority of our users will start seeing leads within hours of doing what we recommend or asking for help.
Home Value Leads is for both the DIY real estate marketer (as shown through our step-by-step tutorials) and the non-DIY real estate marketer (for whom we are happy to provide "white glove" service). We didn't think it's possible, but somewhere on the far, far side of the spectrum is the type of agent for whom no system like ours will work – the non-DIY-er who does nothing and asks for no help.
Meet Debra
Case in point is a real estate agent named Debra. No matter how many emails we sent or how explicit we were with how to get set up on Home Value Leads, we just could not make her happy.
We sent Debra a number of emails right after she signed up to share a number of proven way to get leads.  She had opened most of the emails we had sent to her, but we noticed she still didn't have any leads. Without missing a beat, we sent her a couple of emails asking if she needed help, including multiple offers to set everything up for her so she could just sit back and watch the leads come in.
Here is one of the later emails we'd sent…


…to which she finally replied (notice the date in the upper right corner):

"…it feels like you are stuck out here with little direction." All we can say is, "Wow!" Not only did we send her multiple emails with step-by-step guides and multiple offers to do all the setup work for her, but she even admitted that she didn't have time during her 14-day trial to even respond and manage her account.
"I do not see any pointers to a real person…" and "I would appreciate a response please right away."
No matter how our support tickets come to us, even ones like this, we reply as soon as possible. In Debra's case, a mere ten minutes (notice, again, the timestamp on the upper right of the screenshot below):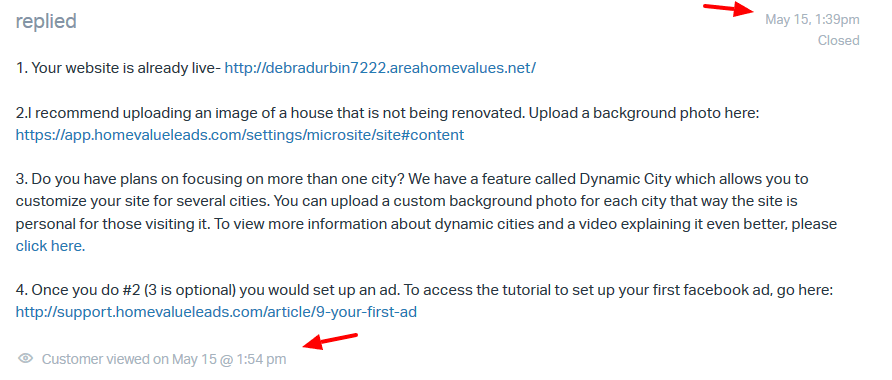 The only reason why it took us ten minutes to reply is because we did some due diligence. We looked at her site to see what should be done. As you can see above, we came up with a few pointers that were not only shared with her in previous emails from us but also included in our online support articles.
At this point, all we could do was send her yet another email reiterating all of this advice. This is all she would have had to do to start generating leads.
Take note above, at the bottom of the screenshot, that she definitely saw the email not 15 minutes later.
Three days later, we get two back-to-back replies from our friend Debra.

And then again about ten minutes later…

We are clearly not robots! We had responded to her initial email with very specific feedback and just minutes later. These are the only emails that we have ever received from Debra, although she states that she has been trying to extend her 14-day trial. She had asked for either this or help. We offered the latter, knowing that this was truly the only way to solve her real issue – getting her up and running and generating leads!
We can't help but wonder why she signed up for a two-week trial knowing that she was going to be extremely busy with a long training. Even then, one email from the get-go from her, and we would have set everything up for her.
Also, our contact page clearly states that we do not have phone support. We are very transparent about that. All in all, we sent ten very detailed emails explaining how to get the most out of HVL as well as multiple offers to set it all up for her.
Now, at this point, we have to be clear with Debra (notice again, the extremely fast response time):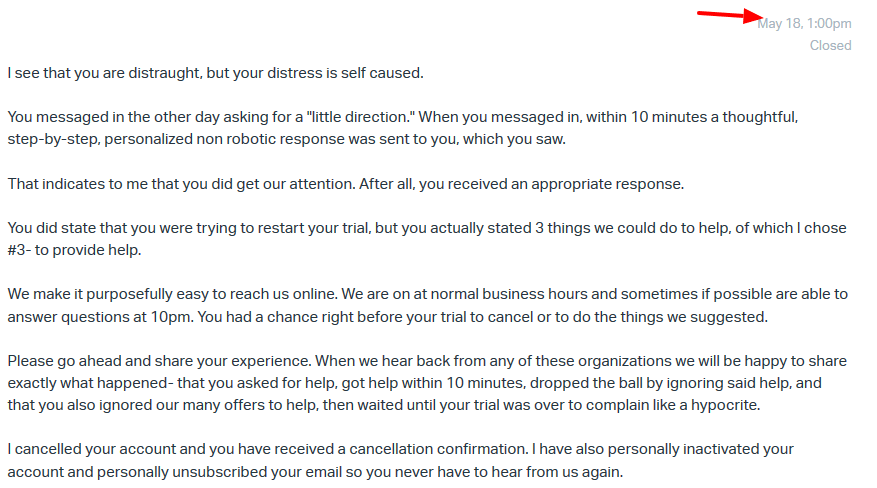 And, finally, a classic reply from her:

Why did we share this with you? Because we cannot illustrate enough or better than with this exchange how you can make Home Value Leads work for you. Even if you are not a DIY, tech-type (which, we assure you, some of our users have self-proclaimed), if you truly want to see the success that so many others have through our system, then you will find a way. We give you plenty of options.
So #Don'tBeLikeDebra simply because you didn't budget your time well or cared to take advantage of myriad opportunities for help. We truly believe that your success is our success. And remember, you didn't become a real estate agent without a little persistence and grit. All we ask is that you either apply that same tenacity and commitment when signing up for Home Value Leads or let us help you make it work.