Don't you hate it when you spend money driving someone to your website, only to have them click away without registering? It feels like money just got flushed down the drain! The good news is that it doesn't have to through the use of Facebook Retargeting. We've developed a guide below for you so that you know exactly how to set up Facebook retargeting both in Facebook as well as on your Home Value Leads site.
How To Set Up Facebook Retargeting
The first thing you need to do is get the tracking pixel for Facebook retargeting. Log into your Facebook ads account at www.Facebook.com/ads and clicking manage ads in the top right.
On the left hand sidebar, click on "Audiences" as shown in the photo below.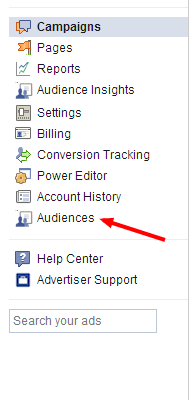 The Create Audience box will show up giving you several options for types of audiences. Click the "Create Audience From Your Website" option.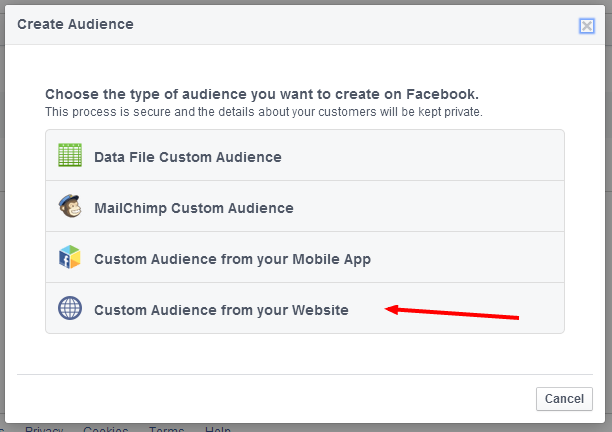 Click create audience and name your audience something like "Facebook Retargeting – Visitor went to website but did not become a complete lead."
Within the "Website Traffic" section, you will need to select "People Visiting Specific Pages" and then set up a couple of rules.

The first rule is that the URL > IS EQUAL TO > www.your-HVL-domain.com. This captures everyone who visits your site, but we want to only target people who didn't become complete leads, right?
So now we create a second rule URL > DOESN'T CONTAIN > confirm.php. This now eliminates anyone who visited your site, but landed on the confirm.php page, which is where they go once they have become a complete lead.
The default timeframe for Facebook retargeting ads is 30 days, so you may want to change this to 180 days within the "Save For" section so that you can target them for a longer period of time. Now click on the "View Custom Audience Pixel" and copy the tracking code shown and click create.  Your custom audience is now set up, but you aren't ready to start Facebook retargeting ads just yet.
Setting Up Facebook Retargeting On Your HVL Site
Before you can start retargeting ads on Facebook, you will need to install that tracking pixel on your Home Value Leads website.
Log into your HVL admin page and navigate to the Settings > General > Basic tab. There are 2 boxes there: one for Analytics code and one for Facebook ad tracking pixel. DO NOT PUT YOUR FACEBOOK RETARGETING CODE INTO THE AD TRACKING BOX. You must put the retargeting code into the Analytics box in order for it to work.
One small thing to mention: Although very few people are using the automated valuation as the confirmation page, if you are there is a LOT more work you need to do to get Facebook retargeting to work for you. If you just want to simplify things, go to Settings > Advanced > Confirmation and set the first question "Use Automated Valuation As Confirmation Page" to NO.
Creating Your Facebook Retargeting Ad
Now that you have Facebook retargeting setup, you need to create an ad that will target (or retarget, as it were) those people.
Go back into Facebook ad manager as you normally would to create an ad. This time, instead of setting up your demographic targeting with homeowners, location, or any other criteria, you can just select the custom audience that we created above.
Click on the Browse button next to Custom Audiences (shown below) and select the "Facebook Retargeting – Visitor went to website but did not become a complete lead." audience that we just created.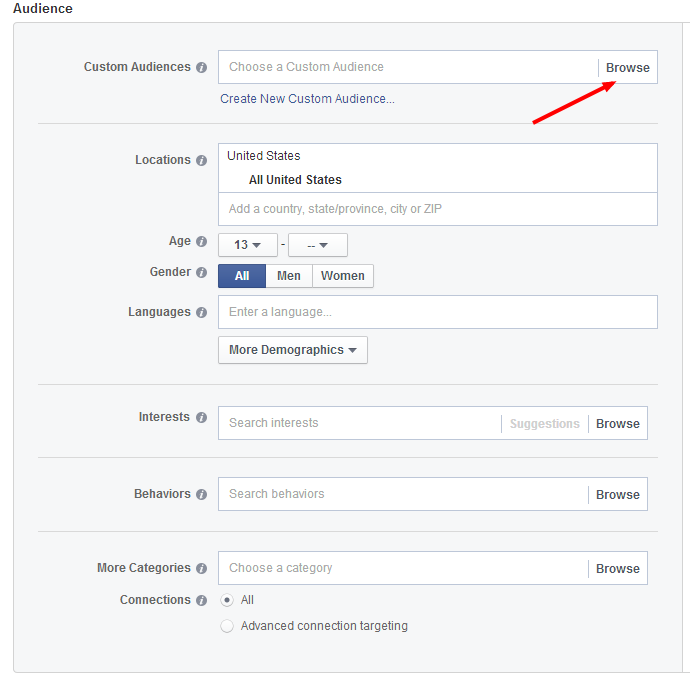 Finish designing your ad with the photo and text, but you don't have to worry about any of the demographic selections.
If you manually bid for clicks (like I recommend), you will notice that your recommended cost per click is ridiculously low. That is one of the major benefits of Facebook retargeting.  At the beginning, your audience is going to be very low – actually, it is going to be zero since you just created the tracking pixel. Don't expect the ad to perform very well at the beginning. You should run your Facebook retargeting ad in addition to your regular ads and make sure that it is in a separate ad group or campaign. As your standard ads push people to the site for the first time, they will be added to your retargeting list if they don't become a complete lead, and your retargeting ad can push them back to the site.
Facebook retargeting ads can be insanely cheap and dramatically effective in getting you more home seller leads. Make sure you consider this when you are marketing your Home Value Leads website.