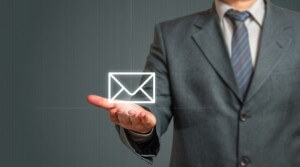 Has it been a while since you focused on your email marketing? Not that you haven't been keeping up with it, per se, but that you've made some much-needed improvements to it?
Email Monday recently took a look at some of the top trends in email marketing for 2017. While some of these trends may not apply easily for most agents due to limitations with technology or time, you can apply a few this year to increase your success with email marketing.
Shorten Your Content
With emails being read more and more on smartphones, emails are better received when short and sweet. Research conducted in 2016 shows that content should be between 50 and 125 words.
That doesn't sound like a lot, does it? But the first three paragraphs of this post total 117, so, as you can see, it's plenty of space to relay any message you'd like.
How can you ensure that you cover what you need to, make an impactful message and keep your audience's attention at the same time?
Say you have an open house coming up to send to your home buyer leads. A simple picture of the house (use the address as the alt text so it shows up when photos are automatically disabled) and a catchy description is all you need.
No need, in this case, to copy down the entire listing description. Make it more exciting and punchier with what makes the house a must-see. Then link to the description of the house to your website.
Keep It Conversational
You want to make as many deep connections with your audience as possible. Your email marketing should do the same. By keeping the tone of your content conversational and as much "you" as possible, your emails will keep your audience engaged and familiar with your particular brand and personality.
Be honest and tell a story to better connect with your leads and clients. Ask a question, for example, to get their opinion or to understand better what they are looking for in a home or in a service.
Integrate Interactive Elements
Put those videos to good use! Besides posting them on your social media feeds and your website, be sure to embed them into your emails. Putting this front and center of your email will get more engagement. Most email marketing applications will allow you to simply add a YouTube video link so that your video automatically pops in.
Alternatively, including a slider of photos is a great interactive element. Whether its for an open house, to showcase photos from a past event or to introduce your team, a slider of photos will keep your audience captivated while taking up little space.