By Regina P. Brown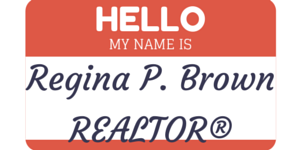 "How's the real estate market?" asked the elderly gentleman in line behind me at the grocery store.
At first, I was taken back by his question. Why would a random stranger talk to me? How does he know I'm a real estate agent? And then I remembered: Duh, I'm wearing my name real estate name tag!
"The market's continuing to rise, but a bit slower than this summer. It's probably going to level off in winter. Why, are you thinking about selling your house?" I asked "Not right now. We're downsizing to a retirement home in about 2 years, so I'm trying to time the market for the best time to sell," he answered.
"Would you like me to send you some stats about your local area?" I asked. "I can also estimate the value of your house for you. Of course, it's complimentary."
I fumbled through my handbag and found a business card. "Here's my website to get your house valuation," I said as I handed him my card with my Home Value Leads web site. "By the way, my name is Regina."
"Yes I know your name. It's on your name badge," he laughed. "I'm Roy," he said, extending his hand for a shake.
I smiled, shaking his hand. "Do you live around here?"
"Yes, just 2 blocks away," he said.
"Me too!" I exclaimed. "So we're already neighbors."
I jotted down his phone number and email address. By then, we were at the checkout register. We said goodbye as I promised to send him information right away.
Hooray for a new lead! Yes, it's possibly a transaction 2 years away, but that's just fine with me. In 2 years from now, I'll still need transactions in my pipeline. Until then, I'll provide valuable information and keep him updated monthly. Who knows how many people he will refer to me in the meantime?
A future transaction just from wearing my name badge. Even more than my name badge, I love long lines! They give me the opportunity to meet someone new and widen my sphere of influence. The bigger my circle of contacts, the more transactions I can stuff into my pipeline and sustain my business.
Talking to people is not only about selling real estate. I ask questions. I find out what we have in common. I listen for clues about their problems or issues. How can I help them? Can I direct them to a good resource? Like Zig Ziglar said, "You can get everything you want, if you help enough people get what they want."
Some Realtors® believe that wearing a name badge is cheesy. "We don't need no stinking badges," they proclaim. Physicians and attorneys don't wear them, why should we? Well, they are not sales people. We are. That means we must advertise. And wearing a name badge is a fun and discrete way to stay at the top of consumers' minds.
A name badge makes you personable. It breaks down the barrier of being a "salesperson". Wearing a real estate name tags is a great way to connect with people. They feel comfortable starting a conversation with you. Notice that people are approaching you, instead of you trying to sell them. People love to buy things. But nobody wants to be sold. They want to be in control by reaching out first.
Yes I agree, it's tacky to wear a badge to family functions. But if you wear your name badge while working in the field, to business networking events, and while doing errands, you may be surprised at the positive response. I often add my REALTOR® blue "R" lapel pin, which can be worn by itself when the badge is overkill.
Tip: Just please don't wear your name badge while exercising in smelly sweats. And remember to take it off before you attend that funeral or church service! You don't want your friends to start avoiding you because you're the agent who never stops selling.
Order a professional-looking name badge and wear it with pride. You're a smart, caring, and experienced real estate agent. And you get listing leads everywhere you go!