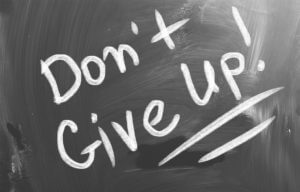 We recently came across an Inman post that made us think about leads.
In the article, Christina Etheridge, founder of LeadsandLeverage.com, offers some insight and encouragement to nurture real estate leads, no matter how little the information you have on them is.
What really stood out in her prose is this single line: "In other words, spend 20 percent of your time generating and 80 percent of your time converting."
This is such an important piece of advice to hold as a real estate agent, you should probably print it out and post it somewhere where you can see it every day. The thing is, it's easy to give up on a prospect when the answer is "no," a lead is slow to make a move or you don't hear from them after a hopeful exchange.
The key is to not give up. A lead  is a lead is a lead. Whether they are ready or not to sell their home or make the leap to buy one, they can
Here are some key things to keep in mind that may help you stick to your guns and keep working on those conversions!
Transactions Take Time
What's the longest you've ever waited for a transaction to happen? From that first contact to closing, it can sometimes take years. Hopefully, you don't have to wait that long, but it's always important to remember that selling or buying a home is a big deal for many people. Life circumstances and just the emotions that a seller or buyer has can get in the way of making a sale or listing a home.
Take the time to nurture your leads. Get to know them. Make sure you keep top of mind with them through newsletters, phone calls and emails.
Look Forward to the Deluge of Referrals
As you nurture a lead over the course of months or, goodness forbid, years, you might find that someone else in that lead's network is more ready to buy or list a property. It's important to keep cool and ask for that business when it's appropriate.
Your patience and hard work will also be rewarded with referrals after you finally close!
Invest in a Good CRM System and Marketing
Staying organized so that you follow up consistently and well with your leads is important, too. You definitely don't want a lead to fall off or for you to fall off their radar just because you missed out on some key touch points, no matter how long it takes.
If you're just starting out, spending some dough on marketing can also be hard to do at first. But with a good marketing plan to capture leads, you can start collecting that base of prospective buyers or sellers and start the transaction lifecycle sooner than later.
Don't Give Your Leads to Another Agent
How bummed would you be to find out that a real estate lead you had spoken with a year before decided to go with another agent? You might not find out, in actuality, unless by some miracle or networking prowess, but you can bet it will happen.
Nurturing your leads means keeping them in the long run. Without your being top of mind in a home buyer or seller's mind, you can be sure that you will be forgotten and overlooked for another agent.
So, what's the big takeaway? Patiently follow up with leads and do so with a smile. Know that the payoff will come someday if you just hang in there and keep these truths in mind.