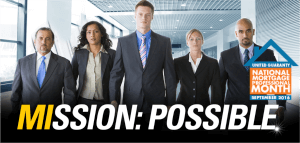 Every field has its allies, and in real estate, its the mortgage professional. Just as real estate agents work hard to help their clients find the homes of their dreams, so, too, do the countless loan officers, processors, underwriters, or credit union originators.
United Guaranty Corporation, based in Greensboro, North Carolina, teamed up with National Day Calendar to officially register National Mortgage Professional Month each September. In its second year, National Mortgage Professional Month spotlights "hard-working professionals across the country who are dedicated to helping families and individuals purchase homes." This year's fitting theme? "Mission Possible: Helping People Buy Homes."
"At United Guaranty, we work hand in hand every day with loan officers, processors, underwriters, and credit union mortgage originators," says Jo Fleischer, Director of PR and Media Relations with United Guaranty. "We know how dedicated they are, and we created National Mortgage Professional Month to bring long-overdue recognition to these MVPs of our industry."
From September 1 to September 30, mortgage professionals who submit a mortgage insurance application or an entry form in United Guaranty's weekly drawings will have the chance to win one of hundreds of prizes such as a portable wireless speaker, a tailgating utensil set and a travel/computer backpack.
So how can you, as a real estate professional, express your gratitude to your mortgage professional friends this month? For one, encourage them to visit the National Mortgage Professional Month web page for their chance to win a great prize this month. Make your kudos public by visiting the National Mortgage Professional Month Twitter page to give a shout-out to a mortgage pro you know. Or, simply, send a personal note of thanks from you or your team.
Perhaps after the many closings we hope you have this month, you and each of your home buying clients can show some way to say "thanks for being part of the team" to the mortgage pro who helped behind the scenes.
For more information and official rules, visit our National Mortgage Professional Month website,ugcorp.com/nmpm.