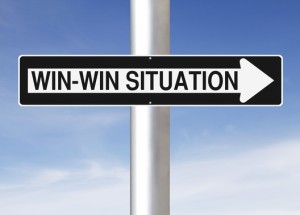 As we've mentioned before, listings are the bread and butter of real estate business. They yield more profit and are a lot easier to manage. The more you have, the more business you can do. However, it's important to be "buyer aware." That means ensuring that you maximize your lead opportunities by focusing on the buyers as well as the sellers.
What does that look like? Well, it's probably easier than you think. For one, you already have the buyer's information. You've already built a level of trust as the person handling the transaction on the other side. So don't be afraid to reach out to them! Maybe the buyer is not getting along with the buying agent. Pay close attention to what they say, how they acted with their agent then follow up to see how things are going. Ask lots of questions to uncover any situations. Once you gain a better perspective on their situation, you could "adopt" the buyer in case they were thinking of leaving their relationship with their agent anyway.
You should also include the buyer in your email follow-up plan. Even if they lose interest in your home, it's good to tell them how good it was to meet them, answer any questions they had and to even wish them luck on their search. Then continue to follow up. You should have a solid, automated email campaign dedicated just these buyers so your message is relevant, meaningful and timely. That means following up immediately after you meet them, then a couple weeks after to see how they are, one month after and so on, always offering your help.
Did you happen to uncover any issues the buyers had? Once they close, perhaps you do some extra TLC for them. Was a toilet clogged? Send a handyman to the house and pick up the bill before they move in. Mention it to them and say it's on the house. After all, you want the house to be all you promised to them. They will be so impressed with your level of customer service, they won't forget you next time they hear about someone who could use your services. That $50 bill could multiply into a six-figure commission someday.
The important thing to remember is that buyers deserve as much relationship-building attention and less transactional focus as your sellers and leads. People remember how you treated them. Don't be just the "selling agent". Actively work to be helpful and show you care. They could return the favor someday.