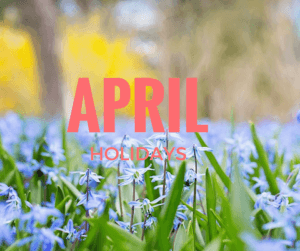 April Fool's Day. Sometimes Easter. Tax Day. April has just a few staple holidays (okay, Tax Day is not something to really celebrate). What about all the other offbeat holidays that are worth recognizing?
April is actually chock full of various holidays, some of which you and your clients may not have ever heard of. They make, though, some of the best content for social media, blog posts and newsletters.
Here are some of April's unique celebrations that you, as an agent, can use to your marketing advantage and how.
April 5 (First Wednesday in April) – National Walking Day
National Walking Day, sponsored by the American Heart Association, is picking up speed (excuse the pun!) as a holiday that many people celebrate across the country. By encouraging walking as an easy way to get in that exercise, it's definitely one worth highlighting.
How to Promote as an Agent:
Take a video of you walking through a neighborhood as you highlight its walking trails or walkability.
Create a cool walking map of open houses in a neighborhood to share on social media, in your next newsletter or on your blog.
April 7 – National Beer Day
We do love those drinking holidays, and this one couldn't be more clear. National Beer Day commemorates, in a way, the first step toward ending Prohibition when President Franklin D. Roosevelt signed a law allowing citizens to brew and sell beer. Cheers to that!
How to Promote as an Agent:
Take a "cheers" shot of you at a bar after work to show off your fun side.
Take an artsy shot of a pair of filled beer mugs at one of your listings by the pool or on a cool patio.
April 11 – National Pet Day
Where would most of us be without the love of our pets? National Pet Day pays homage to our furry and even not-so-furry family members.
How to Promote as an Agent:
Blog post about how to make your home more pet-friendly.
Pet-friendly listings.
Hot spots in a neighborhood near many of your listings or farm that welcome pets.
Listing photos with a pet in each one.
For more information making a home pet friendly check out this article by Rentown.com 
April 20 – National Get to Know Your Customers Day
This holiday harkens back to the days when proprietors and service professionals really knew their clients. Luckily for real estate agents, getting to know your clients is a basic tenant of the profession.
How to Promote as an Agent:
Feature your most recent and favorite clients on your blog and link to it on our social media channels.
Conduct a fun poll on Facebook with interesting questions to get to know your clients and share on social media.
April 23 –  National Picnic Day
There's no better month to celebrate National Picnic Day than April, when the first signs of spring officially staying take root.
How to Promote as an Agent:
Show off some of your listings who have the best backyards by staging a picnic outdoors.
Feature a nearby park that has a fantastic lawn for picnics or picnic tables.
April 27 (Fourth Thursday in April) – National Take Our Daughters and Sons to Work Day
We always this holiday when we got to go to mom or dad's office. It's equally exciting when your kids are old enough to join you at yours.
How to Promote as an Agent:
Show off photos of you and your child on social media.
Go one step further and create an Instagram "Story", Facebook album or Snapchat Memory of the entire day.
Go one step further still and write a blog post about it then share on social media.
April 29 (Last Saturday in April) –  National Pool Opening Day
It's the day everyone's been waiting for: when pools across the country open! Maybe they don't all open exactly on the last Saturday of April, but it's exciting nonetheless.
How to Promote as an Agent:
Take photos of pools at your top listings and post on social media.
Take a video of you explaining pool care for the summer and include in a blog post.
No time? Take a simple snapshot of you by a pool and write a clever caption to entice buyers that a pool should be on their checklist of listing features.