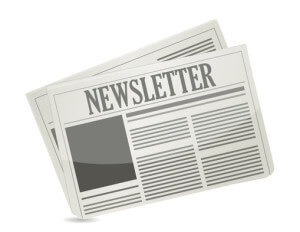 We just could not get enough of the great marketing advice that real estate agent Kelli Higgins shared with us. This Topeka, Kansas-pro provided an awesome testimonial of her experience with Home Value Leads (2,087 percent ROI!) but also shared some old school ways, like handwritten thank you's, that she uses to follow up with leads. Another great "old school" idea? Print newsletters.
Check out how Kelli makes hers shine – and saves money, to boot!
Make Your Print Newsletters Informative
When selling or buying a home is on someone's mind, you better believe they are hungry for information wherever they can get it. Kelli knows this and finds stats through the MLS to share with leads. This not only gives them information they want to see but also helps her credibility as a real estate expert.
Separate Print Newsletters by Farm
If you have specific farms that you connect with often, then a newsletter specific to each is a great idea. The information is more relevant and is more likely to be read by each sub-market.
Kelli, for example, focuses on two very specific areas. As her grandmother lives in one of them, she is super familiar with the neighborhood, the people in it and can tailor her newsletter to them pretty easily and creatively.
Partner with a Complementary Business
The way that Kelli does this is pure genius. Her lender has a great printer, so they print the newsletter, collate and staple it. Kelli then seals the newsletter, stamps it and sends it to her list of 500 subscribers.
The lender is happy because they get three-quarter-page ad in the newsletter every time Kelli sends it out. Kelli loves it because she saves a ton in printing costs.
Again, as with the handwritten notes, it may seem like a laborious chore to create, print and send newsletters. However, these days, anything you can do to stand out in a saturated market of real estate professionals can only help.
Have you had success sending out print newsletters to your leads? Let us know on our Facebook page!