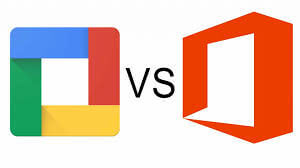 When I ran my own business a few years back, I was pressured into quickly finding an online productivity system. I needed one that would help me stay organized and collaborate with my colleagues and clients around the country. I first used Office 365, as I was most familiar with it, and decided about a year later to give G Suite a try.
For the purposes of this post, it made me think, what would work best for a growing real estate team? The system you use really depends on the size of your team, the volume of activity you produce and the specific tools you need. Since no two real estate teams are alike, let's assume that you are a team of no more than 10.
We received a couple different takes on both systems, so we'll let you decide!
G Suite Fan
Paul Lisanti is a Realtor® based in Oakville, Ontario, Canada, with Keller Williams Edge Realty. Though he has never used Office 365, he did so for a few reasons. G Suite just seemed to do everything he needed!
If you are like Paul and already have a Gmail-backed email address, then you know storage is already included. You don't have to worry much about how much you need or that you may run out because of Gmail's extensive storage.
Paul also liked that he could share individual spreadsheets with clients and easily control edibility and accessibility.
The apps on Paul's iPhone are intuitive and integrate with other apps and services he uses, such as a scanner app, email and more.
All in all, Paul jumped into G Suite because of his introduction through Gmail. After using it for a while, it has become a comprehensive system that has saved him time and paper. One thing we weren't expecting Paul to say? He backs up his Google Drive with Microsoft's OneDrive!
G Suite + Office 365
Denise Supplee, a Realtor with Long & Foster in Doylestown, Pennsylvania, is also the co-founder of SparkRental, a rental automation service and SnapLandlord, a real estate investment education tool. She finds that both G Suite and Office 365 together keep her on track and productive.
Denise started using Office 365 after it launched in 2011 because of her familiarity with Microsoft Office. As an Outlook addict, she says, "When it does not function, it is not unusual to see my curled in a ball, crying on my office floor. I started using G Suite…in 2013."
On the Google side, Denise loves its connectivity, ease of use and ability to share many kinds of documents. The downside? The way the documents format initially using Google-specific Docs and Sheets, for example. Her solution is to use Microsoft 365 for initial creation of documents.
She also uses Outlook for her email. However, the Google calendar flows and notifies her of appointments better. The G Suite to-do list works wonders over Microsoft's as well.
So what can we conclude? Since both G Suite and Office 365 are easy enough to use, go with what feels natural to start with. Paul relied on his Gmail connection while Denise favored Microsoft because of her familiarty with the Office Suite. Once you have everything set up, dive right in and start creating folders, working on documents within the system, sharing documents and collaborating with others.
No matter which tool you use, you'll definitely save time and see your productivity skyrocket.