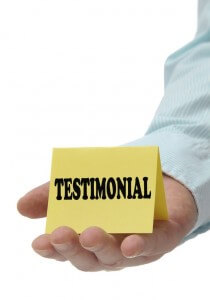 Now that much of the year has come and gone, it's time to refresh your real estate brand. One solid way to do that is to ensure that you collect a new batch of testimonials from this year's clients.
Testimonials are different from reviews in that they are, in essence, longer form case studies, straight from your clients' mouths. They are statements made by your clients extolling the many benefits of working with you as a real estate agent.
How to Use Testimonials
Testimonials are a form of content that can be used in a variety of aspects of your real estate marketing. We talk at length about content to include on your blog. Focusing on one testimonial per blog post, say, monthly, is a fantastic way to fill your content calendar.
Other places to include your testimonials include sidebars on your website, as a feature in your newsletter and, of course, on social media. You can take one testimonial and repurpose it across your entire marketing plan. Doing so will ensure that your clients' stories reach your audience wherever they find you.
And don't worry about the same testimonial being seen by people multiple times. The more they see a story, they more they will remember what you did for you client and why your client recommends you.
Anatomy of a Testimonial
So what goes into a testimonial? Testimonials include the usual who, what, where, when, why and how questions that make any good story come together.
Who: The name (can be first names and last initial or just first names) of your client lends credibility. A photo of your clients is even better to bring their testimonial to life.
What: Did you help list or find a home? What was the particular situation of the client?
Where: What neighborhood or area of town were you able to find a home or list a client's home?
When: Mentioning the particular season/time of year that you helped someone or a particular time in the local market (was is a seller's market? buyer's market? particularly difficult economic time?) gives your story some context relative to just how much you helped your client.
Why: Why did the client enlist your help? What did they find particularly compelling in choosing you as their agent? Were they referred to you by another client? Did they love your particular brand or niche?
How: Finally, what exactly did you do to help your client achieve success?
Collecting Testimonials
Listing out these questions for your client when asking for a testimonial makes it super easy for a client to answer your call to action. It helps them to clearly remember each important element to mention of their story in working with you. So be sure to include them in any ask for a testimonial.
Collecting testimonials is easy but also a timely activity. You want to give your clients time to enjoy their home or breathe from the transaction (especially if they are moving and settling in). A good time to ask for a testimonial is a couple weeks after you've give your thank you and closing gift.
If you don't receive a testimonial, feel free to ask again a month later after you've asked how the client is faring. At first a simple ask if they would provide the testimonial in the card or email is perfect. Offer to send them questions to help facilitate their answer. Another month later, send them the questions.
You can send a blanket request to all clients by including an ask on your website, as a social media post and in your next newsletter.