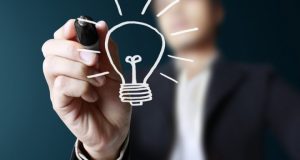 Does the term "thought leader" conjure up images of political pundits or experts sitting on the upper echelons of higher education? Well, strike that image from your mind, because, YOU as an agent can be a thought leader in your own right, too!
By definition, a thought leader is someone who has a view that others find authoritative or especially influential. You work day in and day out in the trenches, reading up on the latest trends, understanding the local and national markets and working side by side with clients to help them list and buy properties. So who better to be an authority or have some influence in the world of real estate than a real estate professional?
Why Be a Real Estate Thought Leader?
Being an expert in real estate is not just about knowing the market. It's being a trusted resource on all aspects of the business. Once you're a trusted resource, then you will distinguish yourself among all the other agents vying for the same leads. In other words, the more you know and share what you know, the more home buyers and sellers feel comfortable with you to take care of their business.
Much of this goes back to the 80/20 rule that we encourage you to follow. As an agent, it's important to share what you have to offer, but, when it comes to drawing more leads online or offline, it's better to share your insights on any matter of interest to homeowners.
Where Do You Start?
The best place to start as a real estate thought leader is through content, content, content. Whether its on your blog, in a newsletter or social media, your personal content platforms are a jumping off point for establishing your expertise.
Another great area to attract more leads as a thought leader in real estate is through guest blogging and writing articles for local media. Many successful agents find outlets online or in print media to regularly contribute real estate content the is seen by thousands of current and potential homeowners. The more people see your name, understand your point of view and read your opinions and advice, the more comfortable they will be reaching out to you when they need to buy or sell their homes.
Offline, local events and forums on real estate put a face and a literal voice to your name. One seasoned real estate agent in Dallas finds that her real estate business had grown after months and months of speaking on local panels. People started to recognize her as a local real estate expert and to reach out to her proactively for help.
You don't have to rely on others to put together opportunities for you to establish an offline presence. You can also develop your own educational seminars, for example, to highlight your industry knowledge and know-how – and choose the topic that you feel suits you and your audience best!
Start Small
Being a thought leader can sound like an intimidating responsibility, but think of it this way: you're already a real estate thought leader! Every time you interact with a client or meet someone new who asks a question that they feel only you can answer, you are being an authority in your field. All you have to do is start small with some online opportunities and work your way up to proactively pursuing offline ones. It takes time to build to this status, but, in the long run, you will start seeing benefits that make the journey worth every minute.