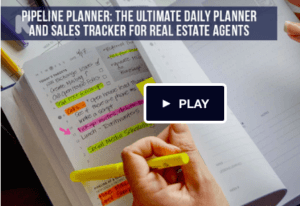 As busy real estate agents, you have a lot of goals to plan to ensure your success. To help organize those goals and to break the down into palatable steps, real estate broker, teacher and educational consultant Melissa Zavala has created the Pipeline Planner.
Sometimes you just have to literally put pen to paper, and that's what the Pipeline Planner helps you do. Drawing on her experiences as a successful broker of Broadpoint Properties in Encinitas, California, as well as the notable work of business and life coaches such as Stephen Covey, David Allen, Gary Keller and Jay Papasn, she created this planner and sales tracker to make it as easy as possible for agents to take action with their goals, step by step, every day.
Real Estate Agent Planner Tool Review: Pipeline Planner
You can read all day long for months and months about the ideas and advice of successful real estate professionals. But to put all of this information together in a system that you can consistently follow and actually do is the challenge.
The Pipeline Planner eliminates that barrier to action by helping you stay focused with daily targets and weekly hot tips so you can make informed decisions, tailored to the way that you do business. It helps ensure that everything you do actually gets you closer and closer to your goals: more real estate closings. Now you can have it all in one place. All you need to do is follow it!
The Benefits of the Pipeline Planner
According to Melissa's Kickstarter campaign (the goal of $10,000 for which she has almost reached!), the key benefits of this planner include:
Achieve work / life balance
Boost productivity
Gain clarity
Develop better habits
Locate more prospects
Generate more leads
Crush your goals
Be happier
The planner is divided into six months and has no dates, so you can make a solid commitment for a good period of time and also not wait until New Year's to start.
A Flexible Tool to Help You Grow – Your Way
Whether you need a little structure or a lot of structure with your goal planning, the Pipeline Planner is pretty flexible to meet your needs and style. There is plenty of space to brainstorm and create new ideas as well as places to reflect on past wins and opportunities. It is all sectioned out throughout the book with these areas as well as traditional calendars and to-do lists, for example, if you need a little structure.
Melissa thought of those who need a little more inspiration to keep pushing every day towards reaching their goals with tips for time management and motivational quotes. The idea is that you have everything you need every week so that you can utilize what will help you the most.
Laser Sharp Focus on Growing the Business
You probably have a lot going on every day. And every day is different. The Pipeline Planner takes this into account as well as what makes agents tick, all with a focus on listing and selling properties. Daily goals are just the start. Agents can conduct a thorough review weekly and monthly to continually make improvements in their processes, thinking and business from all angles. No matter the market condition, it lays a foundation to keep you on track.
Inside the Planner
Here's what you can find in more detail inside the Pipeline Planner:
24 Time Management Tips for Real Estate Agents
24 Business Building / Lead Generation Activities
24 Weekly Milestone Pages
6 Months of Daily Pages
24 Weekly Weekly Wrap-Up Pages
6 Monthly Review Pages
18 Thought-Provoking Business Motivators
21 Notes & Ideas Pages Production Analysis Tables, Charts, and Calculators
Plenty of space to mind map, brainstorm, and note just about everything you need and want to do in your business
It's also chock-full of tools to lay out all of your thoughts, data and specific goals to make it a lot easier to plan and track your success:
Journaling
Mind maps
To-Do Lists
Today's Targets
Prospect and Lead Calculators
Production Analysis
From Phone to Planner
Pipeline at a Glance
Mileage Tracker
Expense Tracker
Goal Setting
Timeblocking
Weekly Milestones
Weekly Wrap Up
Monthly Review
Self-Reflection
There's no better time to start diving into your success and no better tool that we can think of than this handy Pipeline Planner. Check out Melissa's Kickstarter page, help her reach her goal to help get the planner in more agents' hands and get yours today!