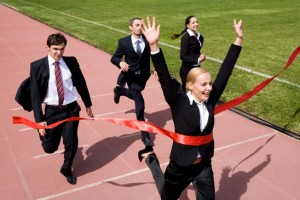 Real estate, especially these days, is more like a competitive sport. You have to fight your way to get those listings and stay ahead of the competition. We get many people on HomeValueLeads.com that worry about how many people are out there doing the same exact things to get real estate leads. Worry no more! Instead of wasting energy and brain power figuring out the most wily tactics to get ahead, why not just be really, really good at what you do? Here are five tips to make your real estate business as competitive as possible.
There is Plenty of Room for Real Estate Competition – Just Stay Focused
If you are constantly switching from area to area, property type to property type and method to method of procuring leads and clients, then you're not doing yourself any favors. The key is to stay focused in every aspect of your business and to have some patience. As with any other type of business that relies on leads and converting leads to clients, it's important to be as knowledgeable as possible about your niche and market.
If you know a particular neighborhood really well, have sold many homes there and have built up a solid clientele, then start with that. Follow up with leads you get in that neighborhood, contact past clients for leads and be sure you mention this heartily on your social media pages and website. If you feel as if you have exhausted that particular area, then do some research and find a similar area you have yet to tap into. The only thing that will change is the area and a few bits of knowledge such as schools, entertainment and other amenities in the area. Think of it as a fun challenge with just a tiny bit more work.
Give your prospective clients a clear picture of what you specialize in and focus your marketing around that. If people don't know right away that you can help them specifically, then another agent might. Which leads us to our next tip…
Be Prepared and Consistent
There's nothing worse than asking people to like your Facebook page, visit your website or to meet with you but then having nothing substantive to show them. Every place that mentions your name should have your established brand, niche and message clearly stated and consistent across all of your marketing platforms – even your mailers, flyers and business cards. You want people to understand right away that you can help them because you are an expert in that niche or market. What should you include? Stats in the neighborhoods you have worked, testimonials from clients and even blog posts on challenges you have met that clients had that led toward a successful listing.
You might ask – well, is there any harm in taking a listing that comes your way that is not in your niche? Of course not! We're really talking here about focusing your marketing efforts for a clear, straightforward message if people are looking for your specific expertise or if you receive referrals from other agents, for example.
You should always have updated stats on the ready, too. You never know when you'll run into someone who is looking to sell!
Do What the Other Agents Won't
Most agents don't bother with partial leads, for example, because they don't feel as if they are serious sellers. That may be with a lot of cases, but knowing that sellers often don't make a decision until about six months out, it's worth it to follow up. It does take time and patience, but you can make it more efficient by setting a time each week to do your partial lead follow-up, sending them postcards immediately, on holidays or when you want to update them on homes like theirs that you've sold or that are in their neighborhood.
Do you truly know what is happening in your neighborhood, niche area or market in your local area? It's worth the time to invest in this kind of knowledge because you'll be savvier and a lot more proactive than other real estate agents. Drive around and check out what the market is looking like in the neighborhood or others like it. Make sure you get daily news updates on your areas and don't be afraid to get curious and ask questions about upcoming commercial developments or companies relocating employees nearby. That could be just the info you need to sway prospective sellers to think ahead and show off your fabulous knowledge.
Research Your Leads in Advance
Before a listing appointment or any event where you'll potentially meet leads, its important to know what they are all about. How do they dress and talk? What are they interested in? You don't want to change who you are, but you do want to make them comfortable upon your first meeting. We tend to trust thoughts whom we can relate to, so without being fake, brush up on who your clients are and be prepared with information that will answer their questions or pique their interest. Dress the part, too. You want to look professional, but adjust your outfit to match the buyer just a tiny bit to help them feel immediately that you are on the same page.
Research Your Real Estate Competition Often
Don't you just get so annoyed when you see the same agents' faces on shopping carts, in magazines, on billboards or just plastered on every lawn? We get it! So what are they doing that seems to work? You might notice that they are focused on a specific niche or market. Check out their website and any advertising they do online. What does their Facebook page have and how often do they post? Understanding those you are competing with will give you an advantage by bringing to light what you could do better or do more of.
You should always look at yourself as an expert in your space. Think about real estate like any other business that has a large pool of competitors. The more you know, the more confident you will be and the more your leads will trust and accept you. That's being a true consultant.