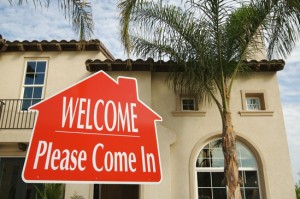 A real estate agent's work is never done, and during no other season is this more true than in the spring. And that means lots of open houses to manage!
We've shared multiple tips on open houses in the past, many of which are worth revisiting, but for this post, we wanted to impart a few more unique pieces of advice to get you excited about the upcoming busy season.
Versatile Signage
Directional signs leading people to your open house is key. How frustrated have you felt when trying to locate a hard-to-find store or event because of a lack of signage?
The more signage you have, the easier it will be for potential buyer to find you. Starting from the main entrances into a neighborhood, for example, place a sign with directional arrows at every turn.
This might sound like an expensive endeavor. After all, if you have a ton of right turns for one listing and a ton of left turns for another, you're looking at double the signs.
The easiest and most cost-effective solution is to create one set of signs that have a removable arrow. You can have Coroplast signs made and arrows from the same material that stick with simple velcro. It'll also save you storage space when not in use.
Open House Block Party
This doesn't actually have to be a party, but having multiple open houses in one neighborhood open on the same day at the same time will not only be efficient for you and/or your team but also drive more traffic to houses on any given day.
Who doesn't love to make an event of seeing multiple houses? To facilitate the search, create a map that lays out the three to five houses that you are showing that day. You can even get creative and give each one a name like they do on "Fixer Upper."
Be sure to advertise your "block party" everywhere you can and to every list you have.
Make Sure It's Staged
This may sound like an no-brainer, but you'd be surprised. Especially for homes with large open spaces, it's important to show prospective home buyers what they can make of a space.
If you cannot afford to hire a staging professional, bringing in simple furniture to at least delineate spaces, for example, is a step in the right direction. Shelving or simple chairs and tables, for example, can do wonders to help people visualize the potential of a space.
If you're stumped for ideas, look no further than Pinterest or Houzz to check out staging ideas.
These are a just a few tips to get you started but ones we hope freshen your perspective on open houses. Keep it simple, make it straightforward, look at the even through the eyes of buyers – and they will come!