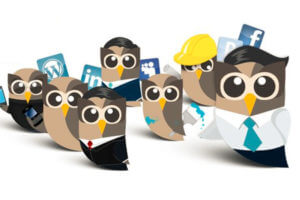 When you started to integrate social media into your real estate marketing plan, you may have loved it – at first. It can be exciting to share your business with the world and to start engaging with people. All of this, however, does take effort daily, as well as time. When you start to run out of motivation, what is an agent to do?
We recommend using a tool like Hootsuite to schedule your posts in advance. Life can get busy in the real estate world. Few agents have time to post on the fly, every day. Scheduling posts across all of your social media channels makes engaging with and attracting real estate leads easy and even fun.
In order to maximize your time and effort with a scheduler like Hootsuite, here are three tips we came up with to help.
1. Post in the Moment (sort of)
You no doubt have a ton of different content you could be posting. Sometimes life can get so overwhelming that you don't even have a moment to properly post something.
The minute you think of a post idea and know when it could be timely to post it, schedule it with Hootsuite. Figure out the photo you'd like to use along with the post, include relevant hash tags and set the date and time when it would work best.
Case in point: A future open house. This is the ultimate content to share with your audience that has a specific timely date on which it would be most effective to share it. All you need is a good photo, a brief description for each channel (you should modify according to character counts and platform audience) and the perfect hashtags. The great thing about Hootsuite is that if you have an idea but can't completely flesh it out, you can always set it up then modify to perfection (or near perfection) when you have more time.
Announcing an upcoming listing is another timely piece of content that is perfect to schedule with Hootsuite.
If you have a specific fantastic feature about the property, use that as your photo. It doesn't have to necessarily be a frontal shot.
2. Plan Out Your Posts in Advance
When you do have a lot of time, sit down at your computer or Hootsuite app on your phone or tablet and schedule a bunch of content days before they actually hit. A great way to effectively do this is to determine all of the types of content you could post then posting in batches according to type.
For example, if you have a bunch of open houses coming up, then schedule these first and get them it if the way. Then do current listings followed by upcoming listings. Everything in between can be infographics you've created, guides you produced, blog posts to share, articles you've read and memes or quote images relevant to home sellers and buyers.
An easy way to make sure you space everything out is to designate specific days for specific types of posts. Perhaps Mondays are new listings and Tuesdays are interesting articles you've read. Post these at the same time on these days. A benefit to doing this is when you find something to share in the moment, you know a good time on a specific day to post so it doesn't run immediately before or after a planned post.
3. Analyze, Analyze, Analyze
Data is a major part of what real estate agents work with. Add social media analytics to that list. By identifying which post types are the most popular and when you see the most engagement, you'll find out what works and what doesn't.
If you find that certain times of the day on certain days aren't getting as much traction consistently, then change up the time. If that doesn't work, then change up the day. By closely monitoring posts and testing it what days and times work best, you'll increase your engagement, leads and business. One word of caution: It will take time as it's best to test one or two low-performing types of posts.
An example of this is if you have open house posts that don't work in Mondays at 2 pm, try 8 or 9 am. If that doesn't work, try Wednesdays at those times. Keep trying until you see a consistent day and time that work.
These are just a few of the many tips we could share on using Hootsuite for real estate. Hopefully, these get you started on a path to more success with the app and on your social media platforms!